Featured Out Islander – Angie Dovel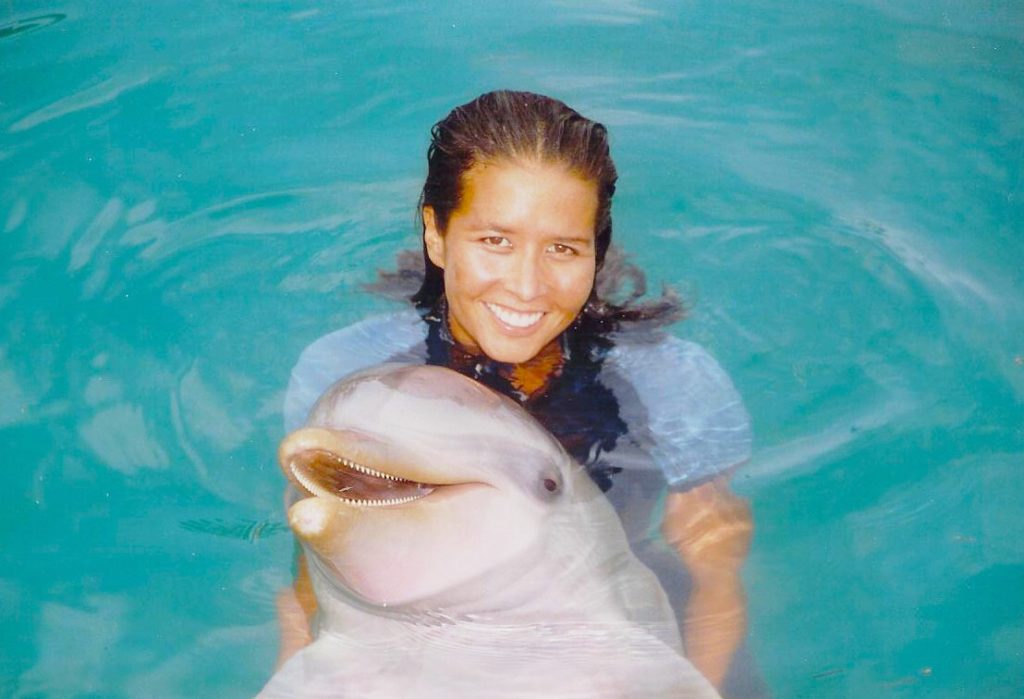 Nassau-native Angie Dovel has chosen a bit of an unconventional life. For 7 years, she's been caretaking a 13-acre private island in the Northern Abacos. Despite the fact that the Abacos is home to the third largest city in The Bahamas, Marsh Harbour (population around 5,700 people) the entire island chain stretches for 120 miles and Angie is at the far end of it. To run an errand in Marsh Harbour, Angie must take a boat ride to the mainland of Great Abaco Island, and then drive one hour south. Getting supplies isn't always easy or reliable so they have to be fairly self-sufficient. On the island they create their own power and water, cook their own food, and have to be their own source of entertainment, since there's no restaurants, bars, amenities or a bustling social scene nearby.
The benefits of being so far removed is that nature doesn't seem threatened by their human occupation, so they are surrounded by an amazing array of wildlife on a daily basis. Although she's on a remote island, she has still been able to dedicate herself to involvement in her local community with the North Abaco Potcake Rescue organization and has done an amazing job inspiring others to spread kindness and compassion towards our pets and local wildlife.
I had the opportunity to pick her brain about life on the island and her love of creatures and critters. I hope you enjoy her story as much as I did!
MM: You are originally from the capital of Nassau. How did you end up going from the most populated island in the country, to a remote island in the Abacos? 
AD: It all started with my husband, Steve. I met Steve through my identical twin sister. He was a boat captain at the time, traversing between Florida and Nassau. I was invited out on boat by my sister, and Steve was invited by her fiance's brother, who was working with him. Apparently he was told that there was some "hot" single chick coming aboard. How could he resist? When we all convened at the dock, it turned out my twin and I were wearing the exact same bikini. And we realllyyy look alike. The look on Steve's face as we trotted up was a medley of intrigue, confusion, and a touch of angst that he now somehow had to keep track of who was the single twin of the two. Luckily a dolphin tattoo set me apart… and then he got busted numerous times staring intently at my ass!
Eventually we got married, and I pretty much coasted my way into my current life on this rock by hanging firmly onto my husband's coattails. My history of employment in Nassau consisted of working as a dolphin trainer, assistant manager at a Zoo and Conservation Center, and at the time of application to our current position, I was marketing a Swim With Stingrays excursion. Try as I might, there was no way to tweak my former duties to have any relevance to the skills the position required. Thankfully my husband was qualified enough for the both of us, and I have found many ways to become useful since I arrived. 🙂
MM: So based on your employment history, you are definitely a lover of animals. After arriving in the Abacos you started the organization North Abaco Potcake Rescue. Can you tell me about that? And what exactly is a "Potcake"?
AD: "Potcake" is the Bahamian term for the thick, leftover food that remains in the bottom of a pot of peas 'n rice after several reheating's. Traditionally, Bahamians fed potcake to the outdoor, indigenous dogs that freely populated the Bahamas. Hence the dogs have come to be known as Potcakes. 
We are a grassroots rescue, consisting of a small group of Abaco residents living within or near the communities of North Abaco. The goals of this team are to nurture kindness and compassion for the people and the animals within these communities; to help those that struggle to afford food, housing or basic medication for their dogs; to spread the message of the importance of spaying and neutering their dogs; to inspire the children within these towns to see these dogs as the sentient beings they are, deserved of love and protection.
Our rescues are quarantined and fostered, and given the vet care they need to begin their life of health and happiness. The adoption process is a vetting of applicants, home checks whenever possible, even if has to be done virtually, and vet and personal references.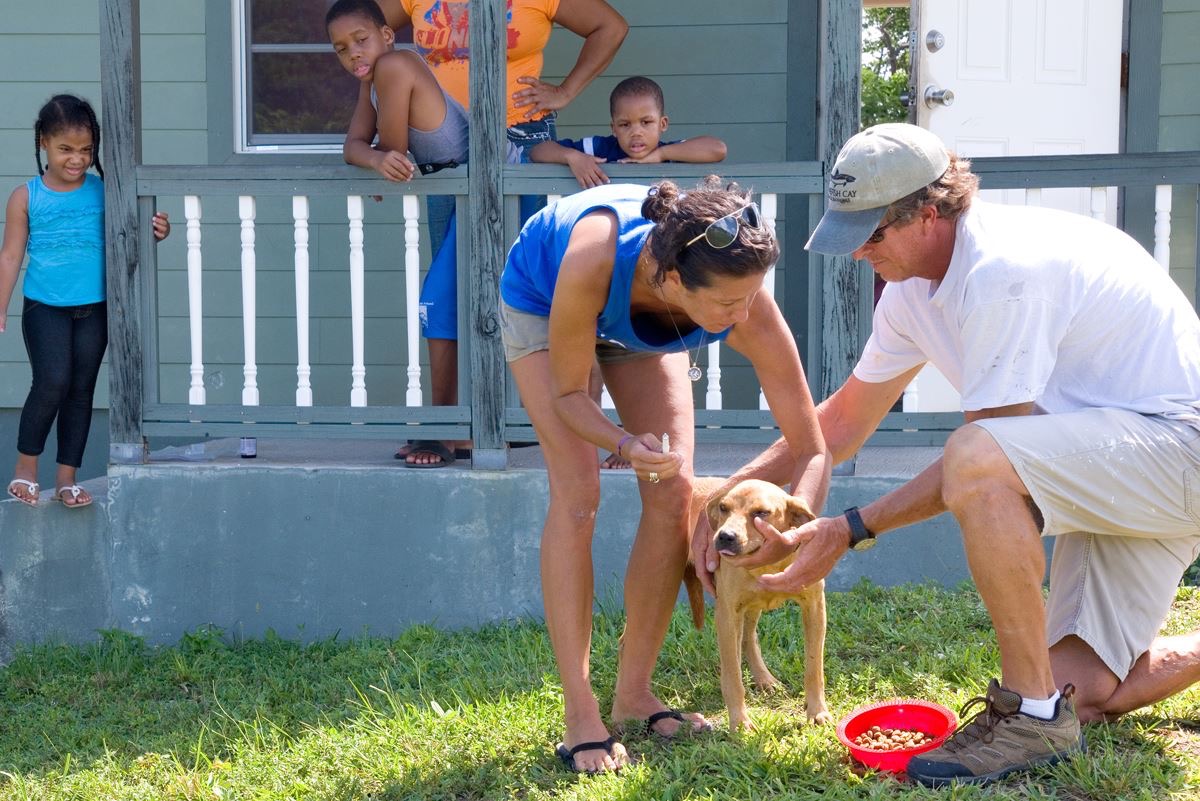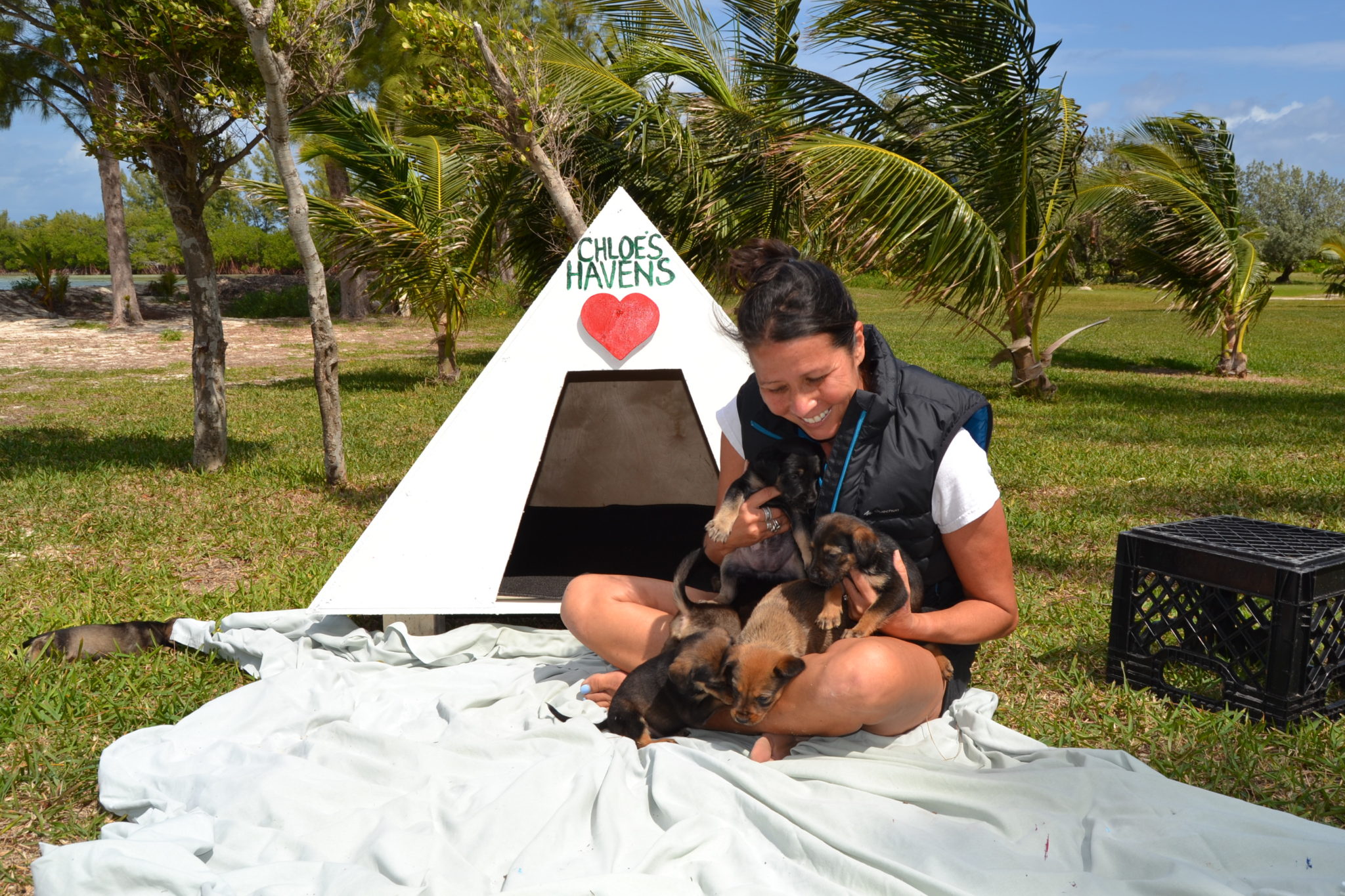 MM: How do you think the North Abaco Potcake Rescue has had an impact on the community?
AD: Since we started our dog feeds and have made friends with many of the people in these communities, we have seen such a difference in how they view the dogs in their towns. Both the strays and their own. Many of the townspeople have come to understand that these dogs have physical and emotional needs much the same as people – shelter, food, comfort, kindness, love. I also work with a team of people from other areas in Abaco to help people, as well. This includes donating supplies to schools, helping families in need so they are able to have food and presents for their kids at Christmas, and donating clothes and food boxes throughout the rest of the year. And since we are known as "The Crazy Dog People"  they know that the help for humans started with the dogs, so it's a very positive association for them.
MM: You co-produced and released a documentary "It's a Potcake Life." Could you talk about your inspiration for that documentary and what message you would like to send through it? 
AD: "It's A Potcake Life" is the story is about these Abaco towns, the people and their Potcakes, and the rescuers that help them. After it was released I assisted with a multi-island school tour based on the movie. I believed it was important for the kids to see themselves in the film being part of a team advocating kindness towards animals. Since all of this, kids that once would not even look twice at their dog, have been inspired to show them affection and love, and for many, the fear of these dogs has turned to pride and motivation to protect them.
Watch It's A Potcake Life online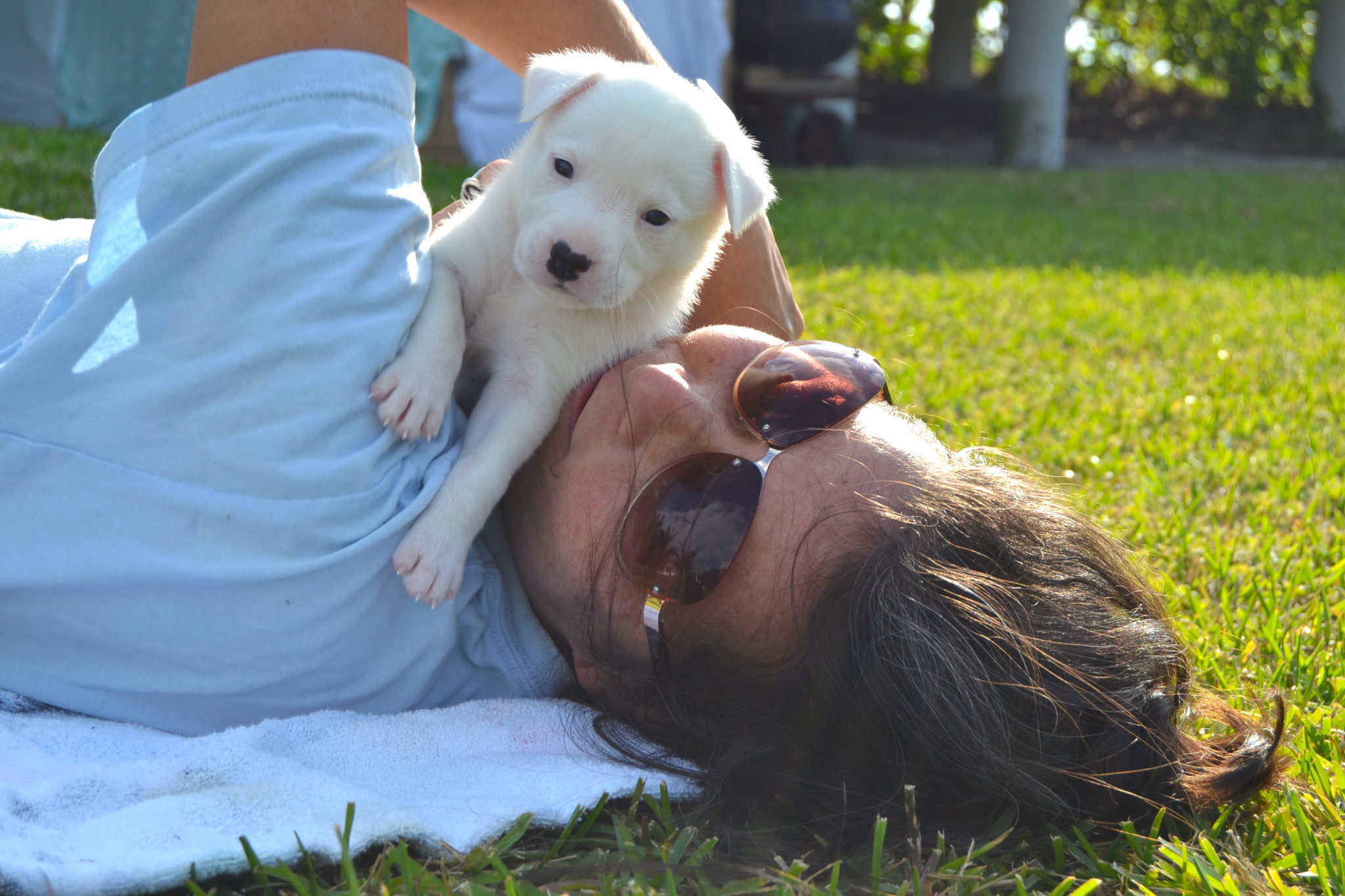 MM: What is it about your particular personality that you think makes you suited for remote island living? 
AG: My personality went through quite a range of evolution during my adult years, so I think timing was essential. Had the opportunity to caretake a cay presented itself even just five years prior, the 'gals just wanna have fun' Ange at the time would not have been prepared for the isolation factor. But by the time this chance landed on our laps, I was very ready to spend more quiet moments with my love, and exit the island-life-non-stop-party scene that seems to be a tad unavoidable in Nassau. I also do seem to have a Dr. Dolittle-esque quality about me that often endears me more towards non-humans. Perhaps Butler Dolittle is more accurate. Creatures on this cay seem to have an innate understanding that if they present themselves to me in any type of demanding manner, I would trip over my own feet to accommodate them.
Currently I have three curly tail lizards that will rush me as I walk down my stairs in the morning to demand their meals, and if I am not quick enough, my toes get munched on. There is also a semi-wild kestrel that was hand-raised here that will helicopter in front of my window several times a day until I hurry outside to throw him a piece of steak. Never mind if I am otherwise occupied. Add to this raising a very mischievous raccoon that likes to jump into my hammock and grab my mimosas, a dozen chickens, and over a hundred foster pups that all needed to be fed, watered, poo picked up, and cuddled (yes even some of the chickens wanted lap time too). My duties of servitude here have certainly kept me from getting bored over the last seven years.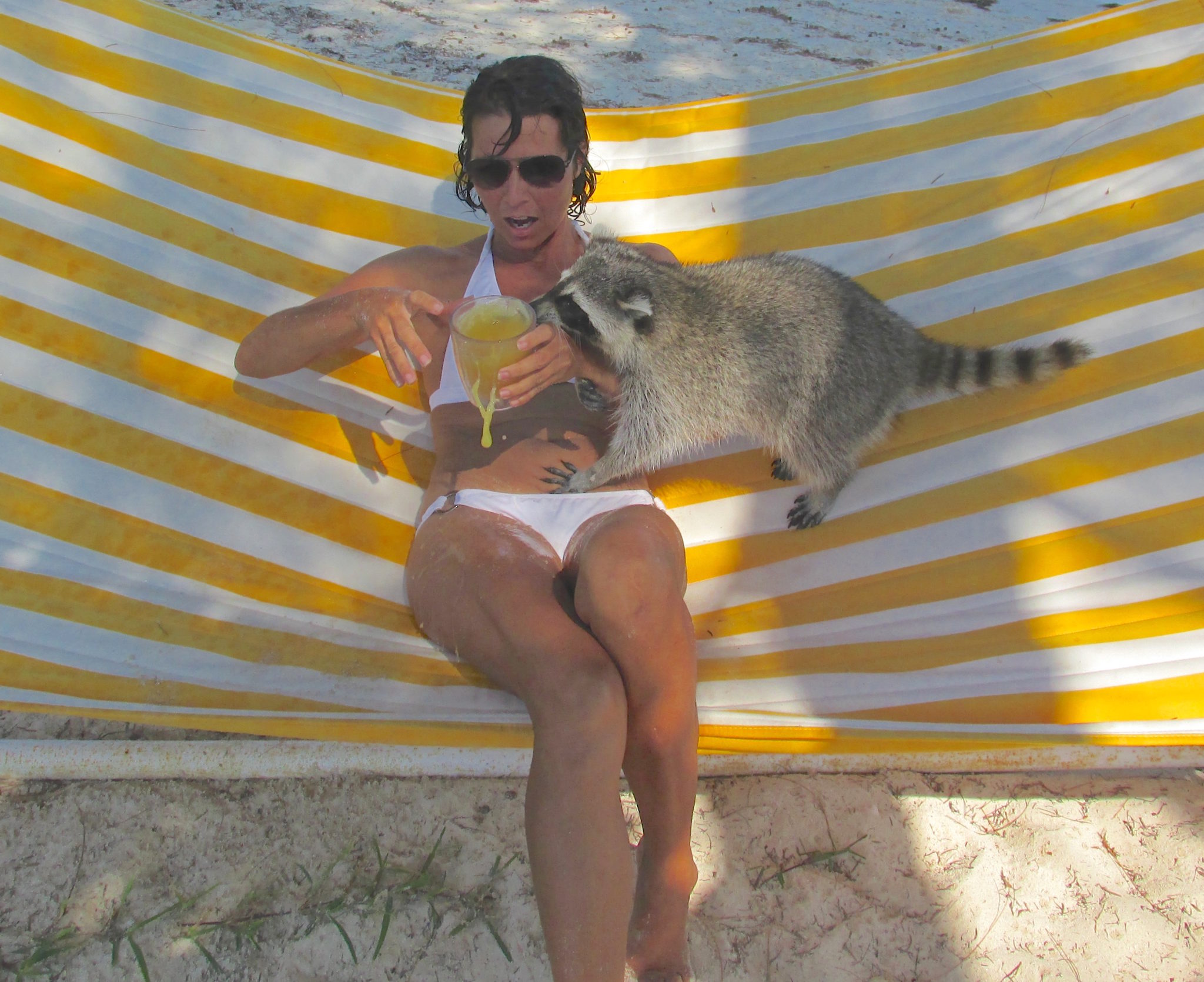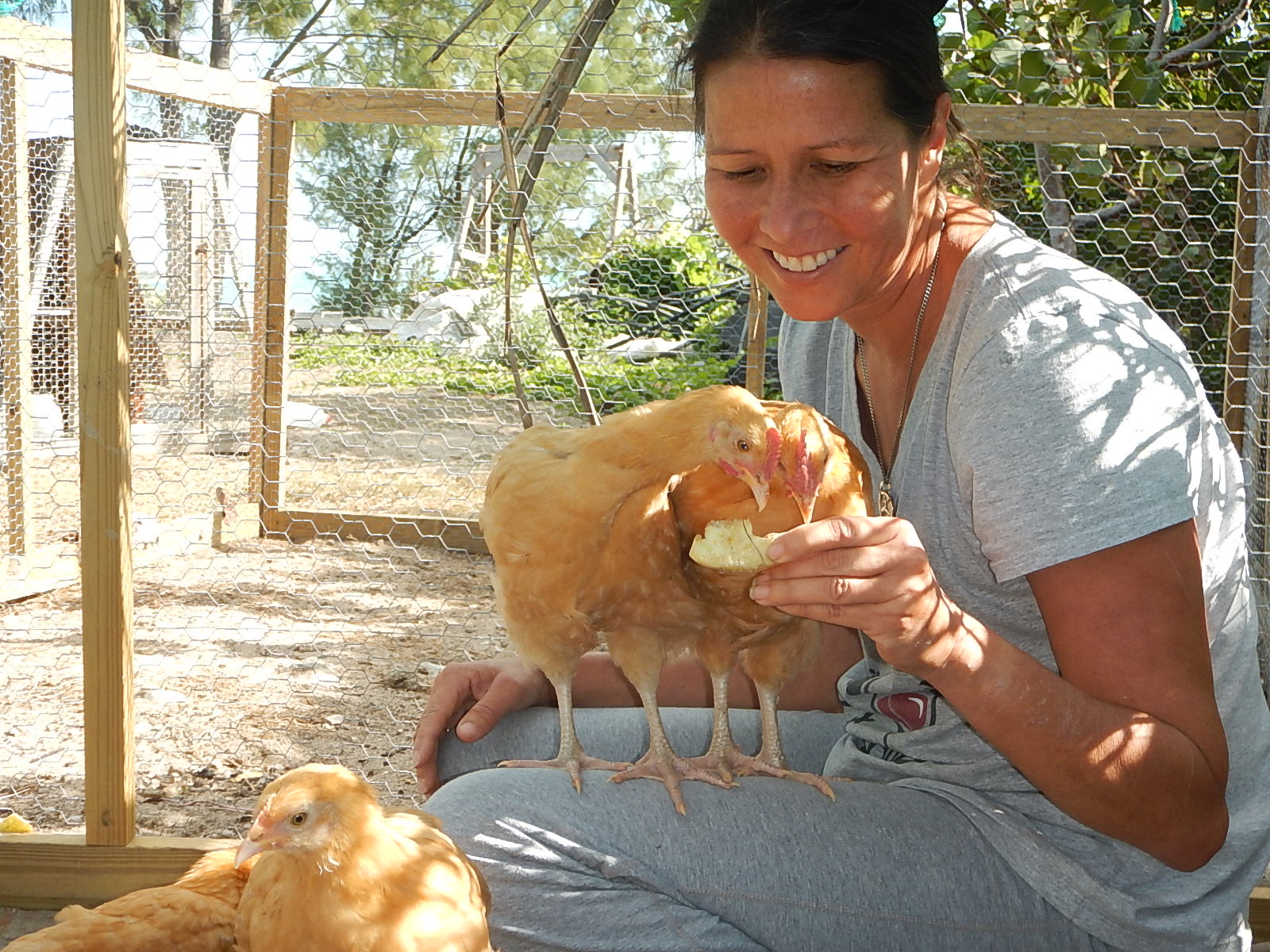 MM: Some people find that Nassau feels small compared to a city like Miami. However, I like to refer to Nassau as "the big city" compared to my experience in the Out Islands. I imagine that must ring true for yourself. What were some notable differences with making the move from someplace like Nassau, with food stores and a social scene, to moving to your island? 
AD: Nassau is certainly the big city for us. I can eat a meal (or half a dozen per day) that people other than myself have prepared, and I can rejoin friends and family for much needed merriment. I think the most difficult adjustment was dealing with my free time here on the cay. I really had to get accustomed to the fact that I was my own entertainment director, conversation companion (in my head that is, I haven't started to mutter and chuckle to myself, at least not yet) and activities committee. Steve and I love our time together but let's face it, we are not going to live on a pebble like this cay, and be attached at the hip. So lots of alone time. I have probably one of the largest sea glass collections in the Bahamas, I dabble in artistic creations, and have become quite steady on a paddleboard. I keep fit raking the seaweed off the beach because my OCD-self thinks it looks messy, and I have have learned to appreciate bird watching on a whole different level. Of course we do have internet too so that does provide me with an umbilical cord to the outside world. We really hardly ever get off the rock, as it can be difficult to get sitters willing to take care of the cay and the zoo.
Carefully navigating the limestone shoreline, with raccoon leading the way
MM: What are some of the challenges you face on a daily basis and throughout the year? 
AD: Steve is hopping-busy with keeping all the operating systems running smoothly on a daily basis. Getting parts in a timely matter is a huge challenge, but somehow he has mastered the zen attitude… "it reach when it reach." Oddly enough the challenge that really gets to me is NOT that every now and then the internet goes down for many hours, or that that town is a boat ride and hour drive away and sometimes when you do make the long drive there, the fruit is disintegrating and the milk shelves are completely empty, but it is that I cannot seem to keep my wee abode clean enough to stay sane! The beach is at my doorstep and outdoor/indoor life is virtually inseparable for my husband and I and three Potcakes. So I live with a broom in my hand and a dust cloth in the other and I'm constantly sweeping sand and fur from underfoot. My poor husband almost blows his knees out trying to stamp the sand and dirt off his boots when he comes in, yet he still gets a yelling when I see the the trail of dirt that inevitably follows him inside…. so yes the endless Molly Maiding seems to be my pet peeve.
MM: What are your favorite aspects of living on the island? 
AD: As much as I make fun of myself catering to the wild and domestic life here on the island, I absolutely love the variety of creatures here and the beauty of this cay. Seven years later and the colour of the water still makes me stand stock still and just stare at the ocean in absolute wonder. We get to see turtles taking deep breaths off our south shore, dolphins hunting around our mooring ball, we have a myriad of birds that live here and they are virtually fearless of humans. We have been blessed with turtles laying eggs on our beach, and we then helped to get the babies to the ocean safely when they hatched 59 days later. Who gets to do that??
MM: What is the strangest thing you've experienced on the island? 
AD: Hmm.. I guess for strange (and wonderful), the top billing would go to the mother loggerhead that hauled herself onto our beach to lay her eggs, right there in front of us. My husband and I were about to leave the island one morning on an errand, and a pod of dolphins in the Sea of Abaco stopped us. Steve got his drone out to film them. Then while we were standing on the shoreline with our dogs by our side, I suddenly saw a massive turtle heaving herself out of the ocean and up our beach, just a few feet behind my husband who was utterly oblivious because he was completely focused on controlling the drone. The dogs leaped into guard duty action but I managed to grab them just in the nick of time and secure them inside. Then we watched for hours as this ancient beast did what millenniums of instinct told her to do. She meticulously dug a hole with one flipper, carefully testing the depth with the other and when all was perfect, she lay 36 eggs. She was in such a trance, we could literally sit right behind her filming as this was occurring. After she was done she oh so carefully, pushed the sand back in the hole and patted it down. It was amazing to watch her use her back flippers like hands. She was exhausted by the time she was done, and she must have been hot too, since it was mid morning. When she finally dragged her huge bulk back to the shallows, she sighed, closed her eyes and bent her head into the cool water and then she was off. It was a morning we will never forget.
Watch the video of this amazing encounter HERE
MM: Can you share with us a funny, interesting or memorable story about life on the island?
AD: It was right at the time Hurricane Matthew was descending upon us. We managed to trap a feral pup at the dump just before the worst of the winds started. This pup was terrified of every other being in the house other then me, so at all times during our hurricane-imposed incarceration, he had to have his paws on my feet to make sure I was not going anywhere without him. Then the chicken eggs we had been incubating hatched a single chick that could not stay alone, so guess where she landed.. yup.. on Butler Dolittle. Steve had put himself down for a four day nap because I was a basket case, so there I was (muttering to myself), worriedly pacing the barricaded confinements of our tiny cottage as the wind howled outside, with three harried Potcakes under foot, a Potcake puppy ankle bracelet attached to me where ever I went, and a little chick that had to be carefully cupped under my chin at all times….it  was a long few days for sure.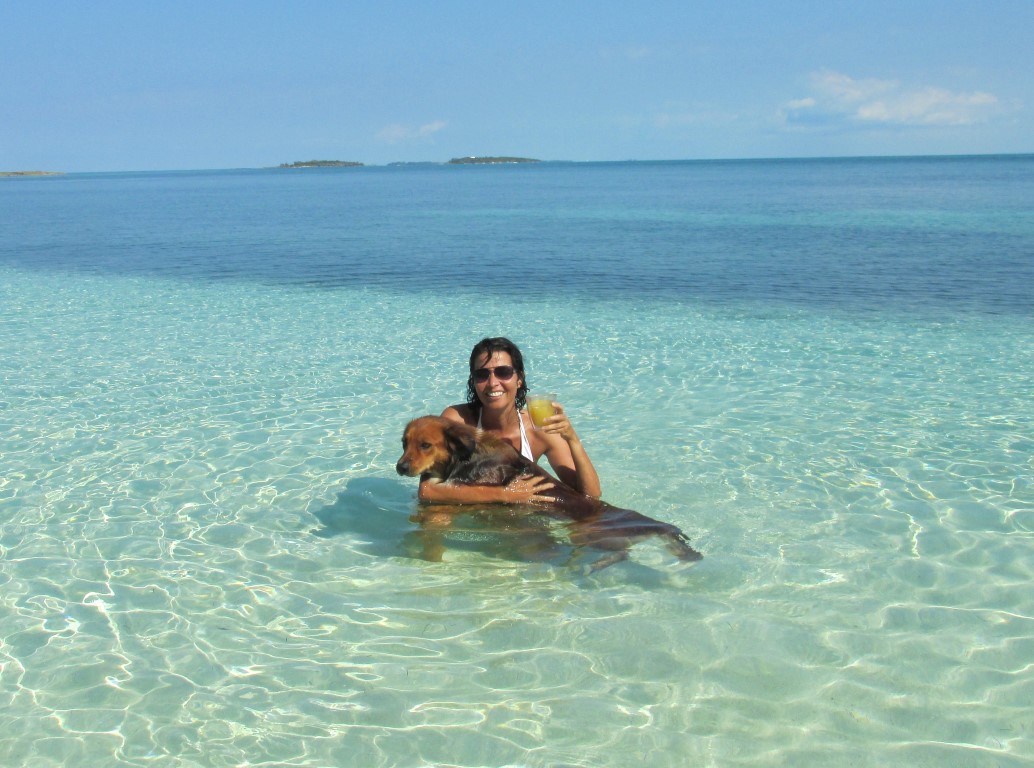 MM: What piece of advice would you give someone who is considering moving to a remote island in The Bahamas? 
AD: Of course, it all depends on the level of change one is stepping into, but I would say – bring patience and perspective with you, leave behind the expectations of parallels to the life you used to have, and just be open to the ups, downs and all the completely uneventful in-betweens that are part of remote island living.
MM: It truly sounds like you live an amazing and adventurous life on your little island! Is there anything else you'd like to add?
AD: Well I think I have done enough waffling, but I will end with saying, that these will be considered the best years of my life. Despite any challenges of isolation, hurricanes, a beach in my house at all times, I know how lucky I am to be living this incredible life on my pebble!