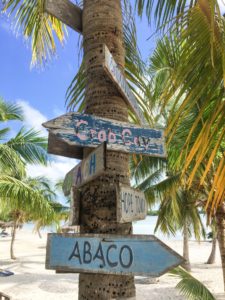 The islands of The Abacos are an extraordinary place; so close to the doorstep of the United States, but truly a world away. 180 miles east of West Palm Beach, this archipelago consists of more than 100 islands, covering 120 miles, but only a handful are populated. The area attracts sailboat cruisers and yachters who head over from the US for the weekend or for extended travel throughout the winter months.
On land, first-class resorts, historic settlements on small cays, and expansive wilderness make The Abacos a unique destination suitable for a diverse array of vacationers. The architecture is colonial and colorful, and many settlements utilize golf carts as a means of transportation. There are no casinos or shopping malls in The Abacos, so nature becomes your playground.
I have spent a bit of time in Abaco in the past, but this trip I really dug deep to experience all that these islands have to offer. If you're looking for an easy weekend trip from the US or your yearly tropical island vacation, look no further than the easily accessible Abacos. Some choose to settle on one island and stay firmly planted, others take advantage of the opportunity to island hop. To find out which island might be a good choice for your next visit, read on.
GREAT ABACO ISLAND
The largest island in the archipelago, Great Abaco Island is the hub of commerce for the region. Restaurants, nightlife, golf courses and resorts are at your fingertips in Marsh Harbour and Treasure Cay, and further south bonefishermen and nature enthusiasts seek out solace. You'll want to rent a car if you are exploring Great Abaco extensively. Rental Wheels located in Marsh Harbour is a great option, offering a variety of cars and vans.
MARSH HARBOUR
The location of the region's largest international airport and plenty of full-service marinas, makes Marsh Harbour an easy port of entry by air or by sea. This is the place to stock up on supplies before venturing out to the islands. Marsh Harbour is centrally located on the island and has a bustling boating scene throughout the year. Along the harborfront sailboats and yachts rest at anchor, and their passengers stroll up and down Bay St stopping at local shops and laid back bars and restaurants.
STAY
The Abaco Beach Resort and Boat Harbour is the largest hotel in Marsh Harbour, located on 40 acres on the Sea of Abaco, with a beautiful private stretch of white sandy beach, a swimming pool and swim-up pool bar, a marina with full service amenities, a fitness gym and health spa, and two restaurants on property. It's a ten-minute taxi ride from the airport and but once you get there, you're right in the middle of downtown, so walking everywhere is a breeze.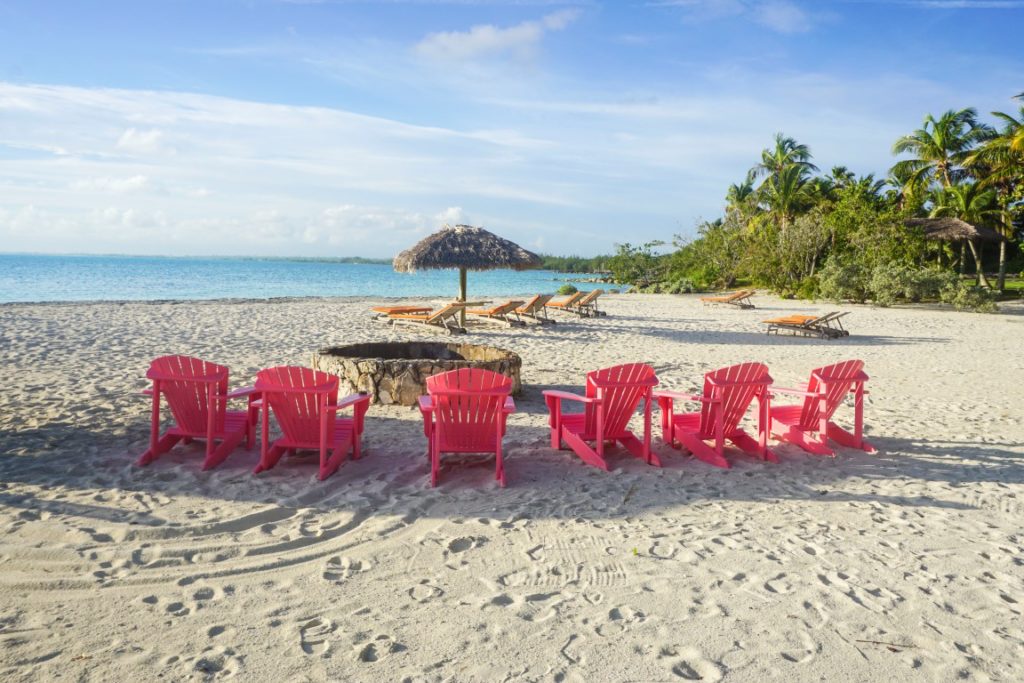 The beach at the Abaco Beach Resort
DINE
If you're staying at the Abaco Beach Resort, odds are you'll enjoy dinner at Angler's Restaurant, one of two dining options on property. Enjoy breakfast and lunch on the verandah as you watch the boat traffic come and go. At dinner, crisp white tablecloths, expansive bay windows overlooking the brightly lit yachts in the marina, and subtle warm lighting will surely invite you to linger over an after-dinner drink.  If you're looking for a laid-back maritime vibe check out Snappa's Grill and Chill, which overhangs the harbour and is right next door to the Harbour View Marina. It's a popular spot for cruisers and boaters with live music and entertainment on the weekends.  Pizza, steak, kebabs, sandwiches and burgers are menu staples, and a Friday and Saturday late-night menu satiates nibbly mouths with mozzarella sticks, hot dogs, onion rings and wings.
In the mornings, Bliss Coffee is the center of action on the island. Local artists showcase their art on the wall, and you can browse through a collection of matted prints to take home with you. Sit indoors on one of their comfy couches or opt for a front row people-watching vantage point on their sidewalk deck.
SHOP
Abaco Neem specializes in a variety of locally produced all-natural products that  have been "helping the body heal" since 1993. 8,500 Neem trees grow at a nearby farm and the various products are made on-island, which includes Neem Cream with elasticity and skin toning benefits, natural bug repellant, supplements, soaps and pet products. The products can be found at pharmacies and retail stores all through The Bahamas, and for international customers, you can place your order online.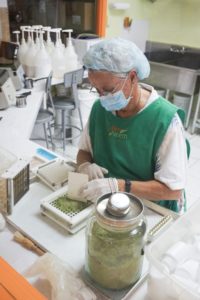 For island-inspired gifts Iggy Biggy is located on the main street of downtown Marsh Harbour in a brightly colored pink building with charming pineapple accents. Inside you'll find island music, sunglasses, wind chimes, upscale shirts for men, this time of year, locally made island Christmas decorations.
PLAY
The Abacos boasts some of the best and most diverse diving options. Snorkel reefs, tunnels, caverns and wrecks, as well as specialized night and shark dives with Dive Abaco. SCUBA instruction is available, as well as equipment sales and rentals.
TREASURE CAY
Treasure Cay was once separated from the island of Great Abaco by an inlet, but over time a series of hurricanes and storms connected the site by a sandy strip, so even though it's still called a "cay" you can drive right to it without taking a ferry. Located 30 minutes north of Marsh Harbour, the community is about four miles long and one mile wide, with a majestic white sand beach to the north, and mangrove and tidal flats to the south. The Treasure Cay Beach, Marina and Golf Resort is the center of commerce. The majority of other development is privately owned residences. There isn't much in the way of shopping outside of the resort area, however, within the resort community are several restaurants and basic services such as a medical clinic, hardware store, gift shops, golf cart rentals, a small grocery store, police station and a bank.
STAY
The colorful townhouses at the Treasure Cay Beach, Marina & Golf Resort are spacious, inviting, and offer beautiful views of the marina. If you opt for Mariner Condo Waterfront Suite, you will be wow-ed with the sunset views from the private balcony. You are within close walking proximity to numerous restaurants, and it's an easy five-minute walk or golf cart ride to Coco's Beach Bar on Treasure Cay Beach.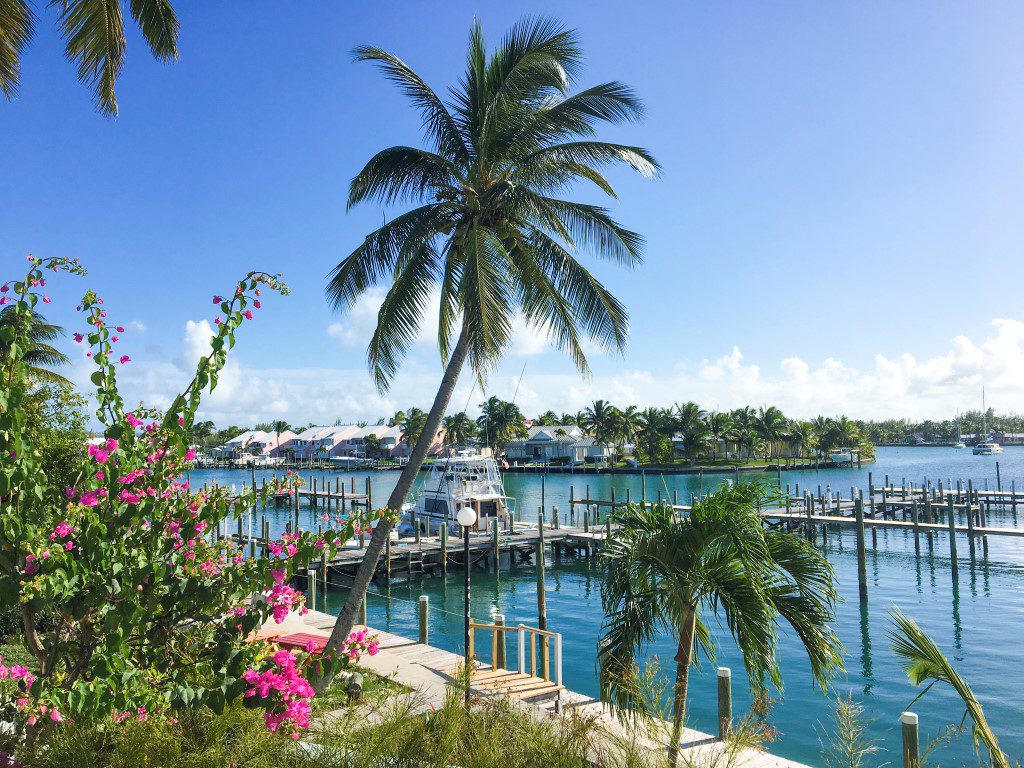 View from the waterfront suites
If you'd prefer staying in a vacation rental home, the team of professional local agents at Abaco Estate Services will assist you in finding your perfect holiday getaway. Homes in Treasure Cay range from quaint 2-bedroom inland cottages for $1,225 per week, and $6000 per week for a 5 bedroom beachfront home with a pool.
DINE
Tucked on the northern corner pocket of Treasure Cay Beach is the Treasure Sands Club. The restaurant proudly specializes in a farm-to-table experience, sourcing directly from their local Bahama Woodstar farm, other regional agriculture farms, the local Abaco Big Bird free range chicken ranch, and local fishermen.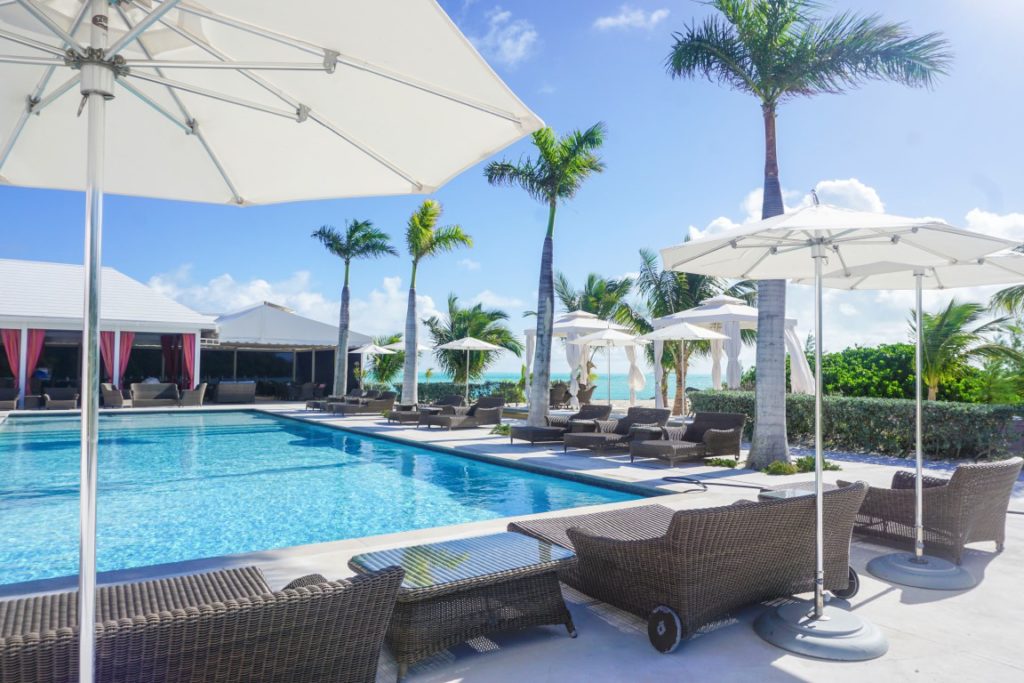 Treasure Sands Club
Coco's Beach Bar is the center of action for those looking to let loose on vacation. This laid-back utterly beachy open-air haunt couldn't get any more quintessentially Caribbean islandy if it tried. You'll find locals, homeowners and vacationers all rubbing shoulders together at the bar, enjoying the view of the Treasure Cay Beach.
PLAY 
Considered to be one of the best beaches in the Caribbean, and at three and a half glorious miles long, Treasure Cay Beach has actually won awards in honor of its unabashed allure. The beach itself resembles a white, wind-blown mountain covered in snow, but you'll be hard-pressed to feel the bite of winter once you gaze at the shimmering, shallow expanse of turquoise/blue water and it's inviting soft sandy bottom.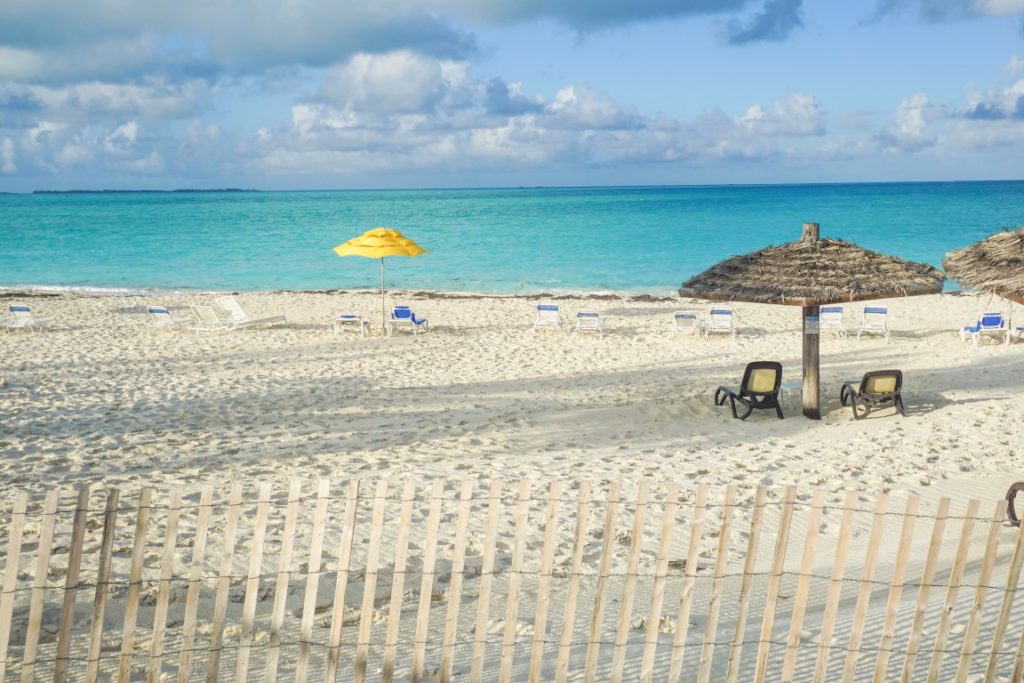 Upon entering Treasure Cay, you'll pass the stately Treasure Cay Golf Course on the right. The course is a Dick Wilson designed 18-hole par 73 and is suitable for all levels, but tends to have challenging conditions when the wind picks up. Golf carts are available for rent, and they have a pro shop, driving range and putting green.
LITTLE HARBOUR
"I have been told of a place that sounds like the paradise we have been looking for. It is called Little Harbour, and is in the Abaco area," wrote Randolph Johnston in his diary in 1952. He arrived via sailboat with his wife and three children and in a moment, he knew he had found home. The American educator and his family pioneered the community, which was originally isolated from the rest of Great Abaco prior to bulldozing a road to Cherokee Sound settlement in 1986. Where there was once only a lighthouse and the caretakers, there are now about 40 homes in the community. It is still mostly frequented by sailboat cruisers and the occasional road tripper willing to trek the 45 minutes from Marsh Harbour and 2 miles in on a dirt road from the main highway. That being said, Little Harbour is one of the best places to stumble upon, and is highly recommended if you are looking for an unconventional place to hang out for the day.
Upon arrival Randolph Johnston brought his talent in art and bronze sculptures and eventually became an internationally acclaimed wood and bronze sculptor, passing his knowledge and talent down to his son Pete. To this day, the entire community is revolved around the only commerce of the Art Gallery and Foundry and Pete's Pub. Pete continues to maintain the integrity of what Randolph so long ago started, along with a third generation of his sons Tyler and Greg, and Greg's wife Heather.
Pete Johnston's Art Gallery and Foundry features bronze sculptures using a 5000-year-old wax process. The foundry is the only one in The Bahamas and the works can be found in museums, airports, government buildings, private collections and, most notably, one of Randolph's pieces is housed in the Vatican's Museum in Rome.
Next door to the foundry is Pete's Pub, a funky open-air beach bar touting themselves not as a "topless bar," but a "sideless saloon". The menu serves a small selection of daily specials based on what's in season or what Greg might have caught that day. T-shirts from patrons adorn every inch of space, and the floor is soft sandy bottom.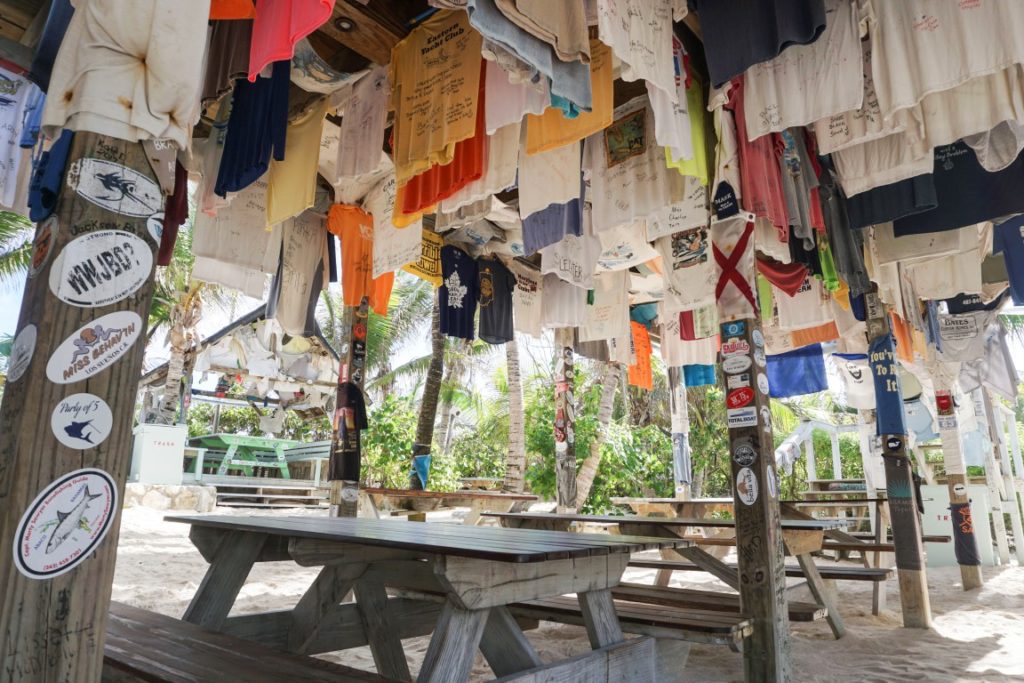 Pete's Pub
WINDING BAY
On the northern side of Cherokee Sound is The Abaco Club on Winding Bay, set on 534 acres, this picturesque community is built on elevated land with striking views of the ocean at every turn. Although it's a private club, visitors are welcome to stay in the rental accommodations and take advantage of the facilities. The developers did their part to maintain the naturescape by keeping native trees, giving the community a lush, jungle feel which attracts the Abaco parrot. You'll hear them squawking in the trees above you and their brightly colored green bodies are hard to miss. The Club also features one of the top-rated golf courses in The Bahamas, a two-mile stretch of sandy beach that will make you feel as though you are walking on a cloud, a spa and fitness center, and tennis courts. The Cliff House is just what the name implies, a dramatic dining room overlooking the sea with an infinity pool. Head down closer to the beach and you'll find Flipper's Beach Bar.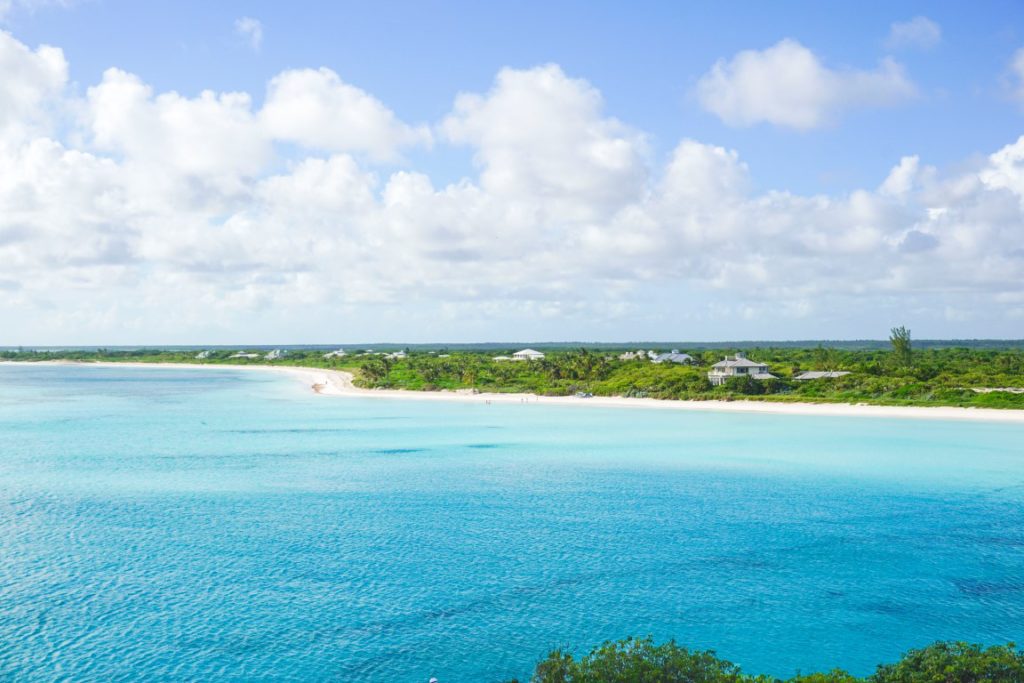 View from the Cliff House, Winding Bay
SCHOONER BAY
A marina village setting, Schooner Bay has been featured in international magazines as a top escape. Canal front homes welcome boaters, and homeowners and visitors cruise around in golf carts. Beaches surround the community on either side. One side is protected by a rocky reef, and the other side stretches for miles and miles towards the north. For those who would like to experience this serene setting, newly opened Sandpiper Inn offers comfortable and chic rooms and cottages, and a top restaurant on site. The bar in the main lobby area is the social hub of the village.
Next door to the Sandpiper Inn is the swanky Black Fly Lodge, a top destination escape for bonefishermen. Coupled with some of the most fantastic and untouched fishing grounds within a short drive, is the first-class food that is served up on the daily throughout the guests' stay. Fresh, seasonal Bahamian seafood, including lobster and stone crab claws, are plated to perfection.
THE ABACO CAYS
ELBOW CAY
Elbow Cay's community of Hope Town surrounds a protected circular harbour which is generally filled with boats on moorings or at anchor. The iconic red and white striped Elbow Reef Lighthouse towers above the harbour and colorful New England style wood cottages surround the quiet lagoon. The town's rich history dates back to the late 1700's and today the full-time population is estimated to be under 300 people. Heading south on Queen's Highway leads you into the more rural area of the island, dotted with colorful vacation homes, boutique lodges and beautiful beaches on the ocean side, and dramatic harbour views on the sound side. There is enough going on in this vibrant little community, but the speed is comfortably slow. Elbow Cay is only a 20-minute ferry ride from Marsh Harbour, making it an easily accessible Out Island experience for a day trip, or a relaxing vacation.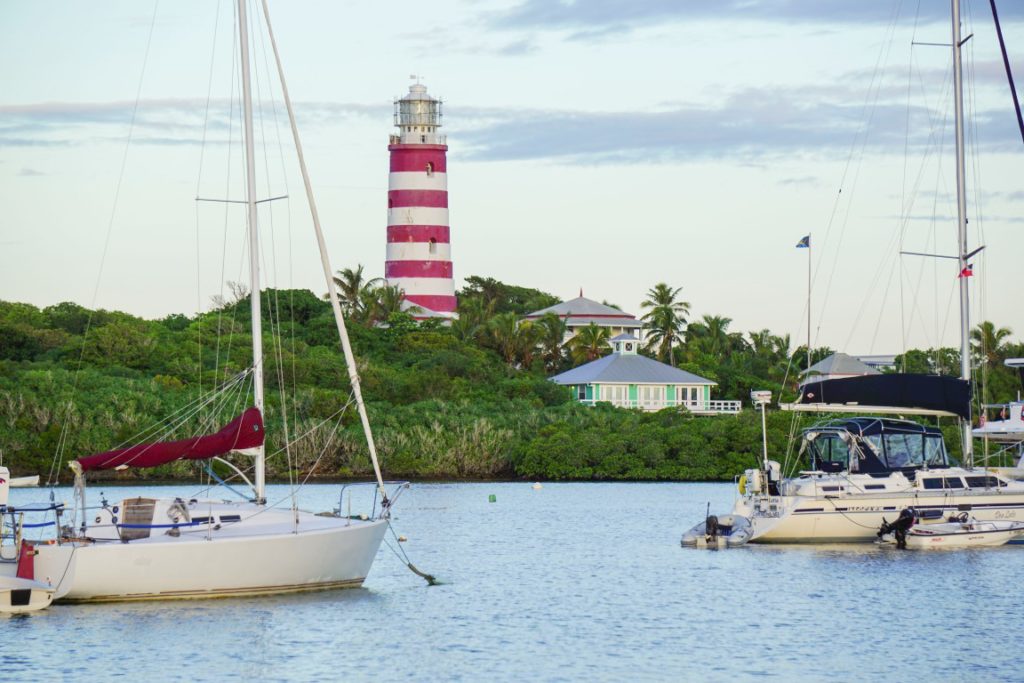 STAY 
The Abaco Inn consists of 12 bungalows, 8 suites, all with glorious views of the ocean. The pool is situated just above the rocks on the ocean. On a windy day, the waves will be crashing just below. The suites are cozy units with a balcony, complete with a hammock facing the sea, soft feather bedding and private en-suite bathrooms. The Inn is located on the central/south end of the island, but you won't feel isolated. Nearby is Sea Spray Resort and Firefly Resort, both with bars and restaurants, and of course the ever-popular bar and restaurant on-site at the Abaco Inn.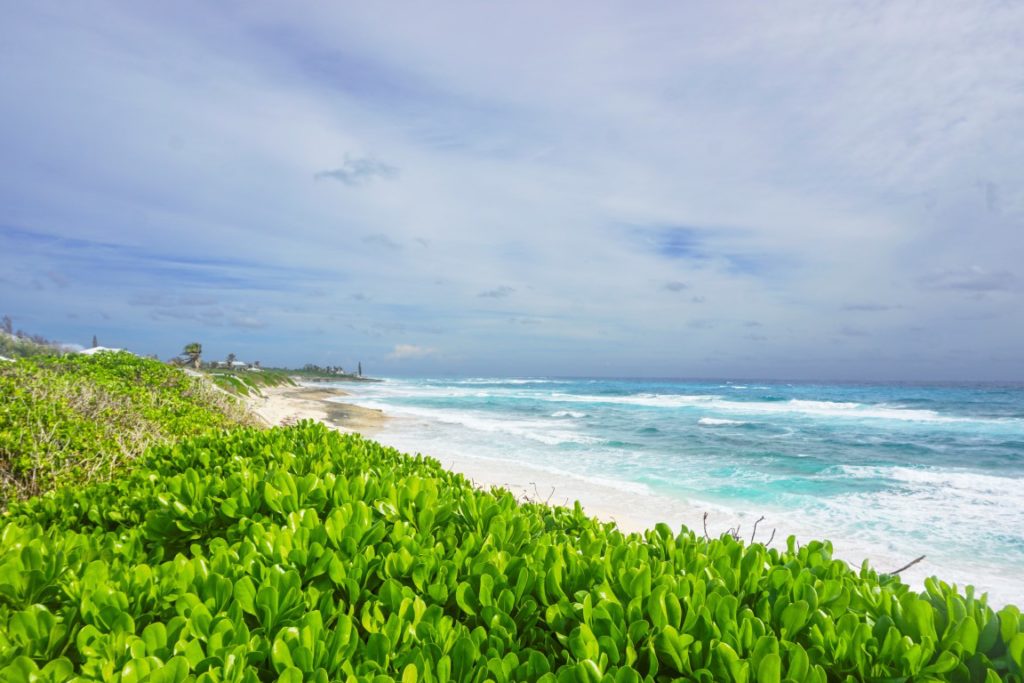 DINE
The creators of the famous Firefly Sweet Tea and Moonshine products based in South Carolina brought their southern hospitality to the Firefly Resort Bar & Grill. Dine on the deck overlooking the calm harbourside and enjoy some of the best sunsets on the island, or opt for a view from their cozy air-conditioned dining room with picture bay windows. Even the pickiest of eaters will be hard pressed not to find something to tickle their taste buds. Their menu includes lobster quesadillas, veggie stack, and burgers done every which way but wrong, as well as pastas, soups, salads and a variety of light and heavy appetizers. On Da Beach is located less than a mile south of town, about 10-15 minutes by foot. Look for the signs to Turtle Hill at the bend in the road and you'll follow a sandy path down towards the beach. This colorful open-air bar is elevated above a beautiful stretch of beach. Its super casual, barefoot beach vibe makes it one of the top spots for a daytime watering hole. Expect simple and tasty Bahamian dishes, like grilled fish sandwiches, shrimp skewers and lobster salad.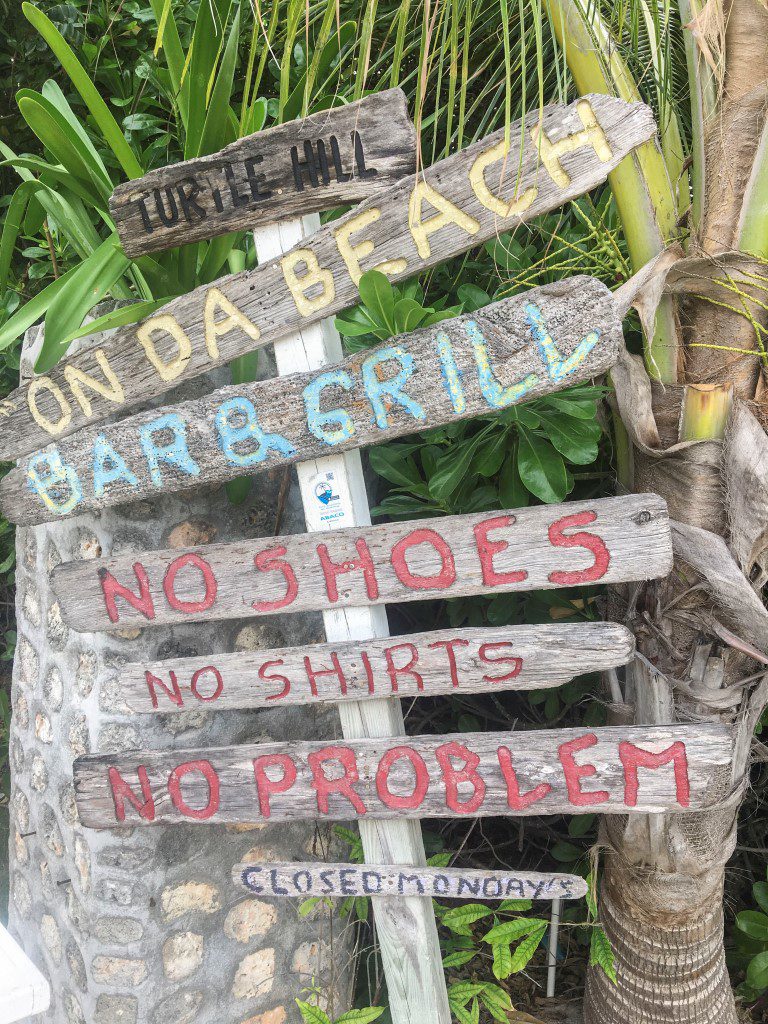 Decorative artwork on the wall gives the Hope Town Coffee Shop an urban feel with an island flair. On the menu are homemade quiche and pastries, fruit smoothies and frappes, and their own in-house roasted blends.
SHOP
Hope Town Canvas was established in 2013 as a one of a kind shop featuring artisanal canvas products. All bags and belts are made with used sailcloth and are a one of a kind piece of art. The quality is second to none and their nautical designs are timeless.
Grown in Hope Town, Om Grown Greens believes in enriching your diet with a diverse variety of organic, non-GMO microgreens. These superfoods, rich in protein, vitamins and minerals include sunflower sprouts, pea shoots, radish sprouts, mung bean sprouts and wheatgrass. You can find their products in local grocery stores, or visit their website to place your order.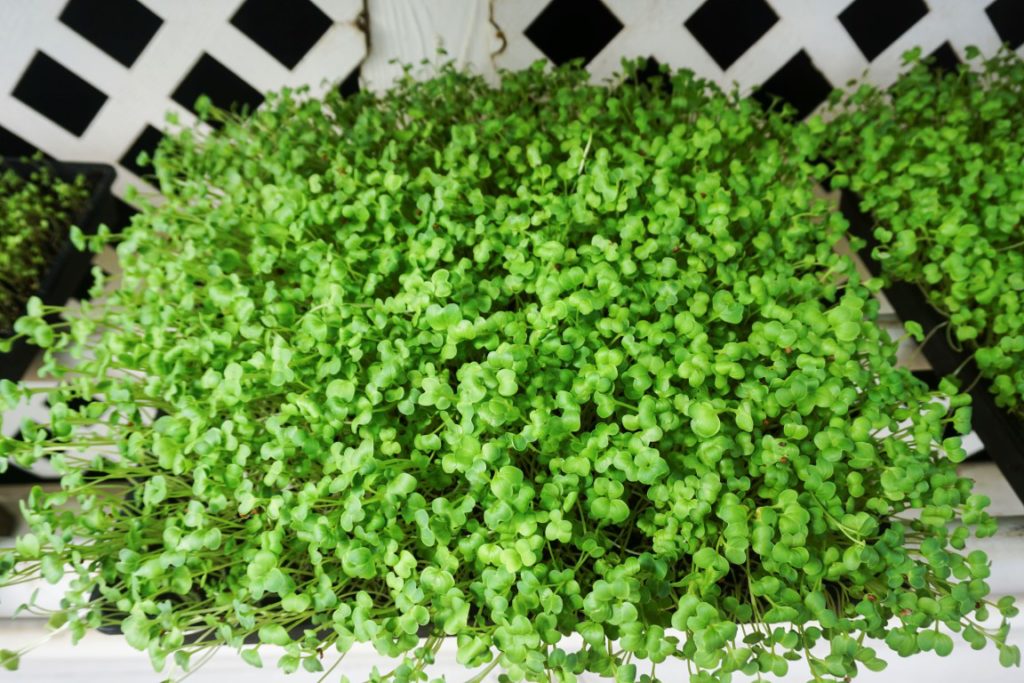 PLAY 
Although The Bahamas is not known for surfing, Elbow Cay has some decent beach breaks if the conditions are right, and occasionally holds competitions and surf camps. Learn to surf with Abaco Paddleboard, or rent boards by the hour, day or week.
The name Tahiti Beach instills images of towering swaying coconut palms in an exotic locale in the South Pacific. The beach on Elbow Cay with this namesake was not accidental. This particular beach, out of all the glorious beaches in The Bahamas, is one most resembling a faraway tropical isle. A sandy beach slinks around a curvy point, and into a protected bay. At its apex it reaches out into the protected harbour, giving it a lagoon-inspired castaway island feel. The beach itself is beautiful at any tide, but for a truly mind-blowing backdrop to your beach day make sure you are there for low tide when an expansive sandbar is exposed, which drops off into deeper water.
The latest addition to this popular beach hangout is the Thirsty Cuda Bar & Grill, a bright blue floating bar that anchors right off of Tahiti Beach. Head out by paddleboard, or just swim up with your soggy dollars. They serve light bites like conch fritters and sesame conch bites in their tiny floating kitchen. They have a full bar with cold island beers, and frozen or blended cocktails. For the kids, they serve a tasty flavored ice. In-season when the weather is good, you can look for them from 11am until dusk every day.
GREAT GUANA CAY
Great Guana Cay, also known as just Guana Cay, is one of the furthest removed islands from the ferry docks, about a 35-45 minute ferry ride from Marsh Harbour, depending on the weather. With less than 150 full-time residents, the island has a quiet demeanor about it that some simply fall in love with, and never want to venture elsewhere. The island is 6 miles long, the very northwest end reserved for the private development of Baker's Bay. The remainder of the island is hilly and dotted with vacation cottages. Town consists of a modest convenience store, a few gift shops, Dive Guana SCUBA dive shop, the ferry dock and Orchid Bay Marina. There are very few places to eat and drink, but that being said, the island is home to the famous Nipper's Beach Bar and Grill, one of the hottest beach bars in The Abacos.
One of the highlights of the island is the island's ocean beach. If someone were to ask me what my top five favorite beaches in The Bahamas were, Guana Cay Beach would hands-down be one of them. Although The Bahamas has hundreds, perhaps thousands of beaches, Guana Cay Beach seems to check all the boxes for top beach criteria, including a sense of seclusion, extensive length (it's 2 miles long), ability to rent a beachfront house, lack of high rise development, and a stellar beach bar. At low tide on a calm day, the water at Guana Beach just seems to glow, and dark coral heads are evident, allowing you to don your snorkel gear and bee-line it straight towards one for a snoop around. There's usually action going on in front of Nippers, but walk in any direction and you'll likely only pass one or two other people.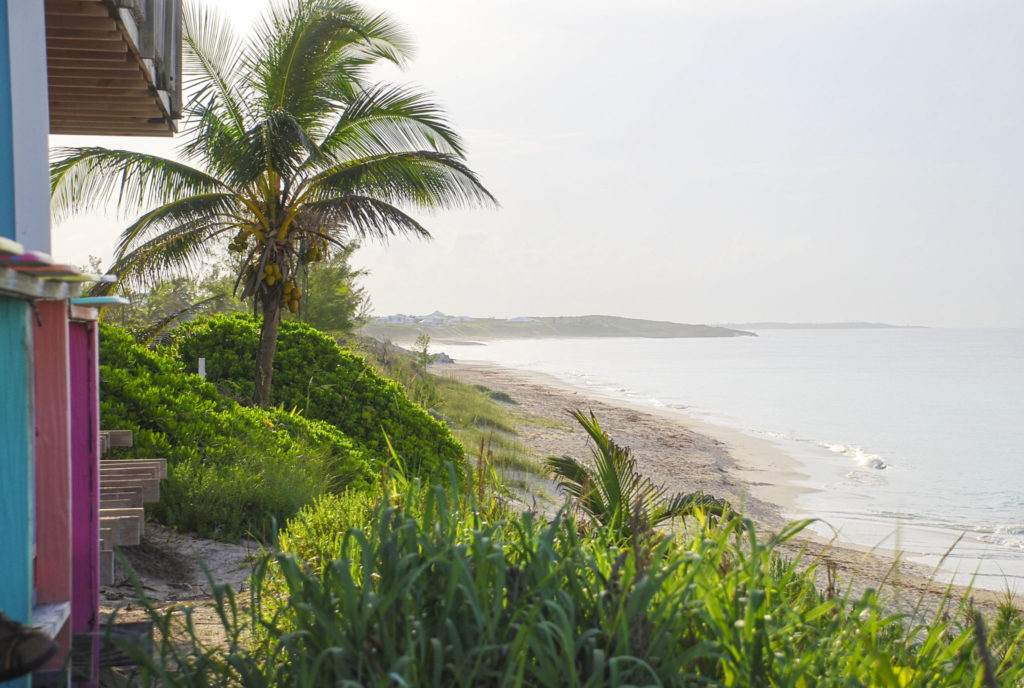 Guana Cay Beach
STAY
There is a fairly limited selection of hotels to stay at in Guana Cay, but there are plenty of vacation rental homes. Many homeowners list their properties on websites like VRBO and Airbnb, but using a local company may assist you with figuring out the lay of the land and give you the best options based on your criteria. Everything Guana will assist you with all aspects of trip planning, from renting a vaction home, to golf carts, boats and paddleboards. You can find a 4 bedroom house right on Guana Beach for $2,600 to $4,200 depending on the season.  
DINE 
From the ferry dock you have a choice of heading left or right. Head left and you'll quickly stumble upon Grabbers Bar and Grill. It's located on one of the only slivers of beaches on the Sea of Abaco side. Depending on your energy level, you'll have the option of a dip in the pool, lounging in a hammock, or playing beach games such as giant Connect Four and giant Jenga, and bean bag and ring toss. Or grab a cocktail and head right into the calm, clear water. Fresh and healthy menu options include wraps, salads, fish tacos and ahi poke.
On this sleepy island you will be hard-pressed to find much going on outside the normal beach bar shenanigans that ensue on any given lightly populated Out Island, but this one is a little different since it has the famous Sunday Pig Roast at Nipper's Beach Bar & Grill. Every Sunday, rain or shine, the staff at Nipper's braces themselves for a group of rowdy yachties set on "wastin' away in Margaritaville". The event draws any and all boaters in the area, who all seem to be die-hard leisure lifestyle addicts. The ferries are packed all day, as families and vacationers from the mainland head over to partake. The menu is, you guessed it, roasted pig. Hearty Bahamian sides with the pure intent of filling alcohol saturated bellies accompany the pig with this buffet are served from 12:30-4pm. People mill around the pool deck, in the crow's nest, and shake their booty on the dancefloor to hit pop music and reggae beats. As the light of day fades, crowds of people merrily make their way back to the dock, singing shanties and swaying against their new found best friends. It's an event to remember….depending on how many rum punches you had.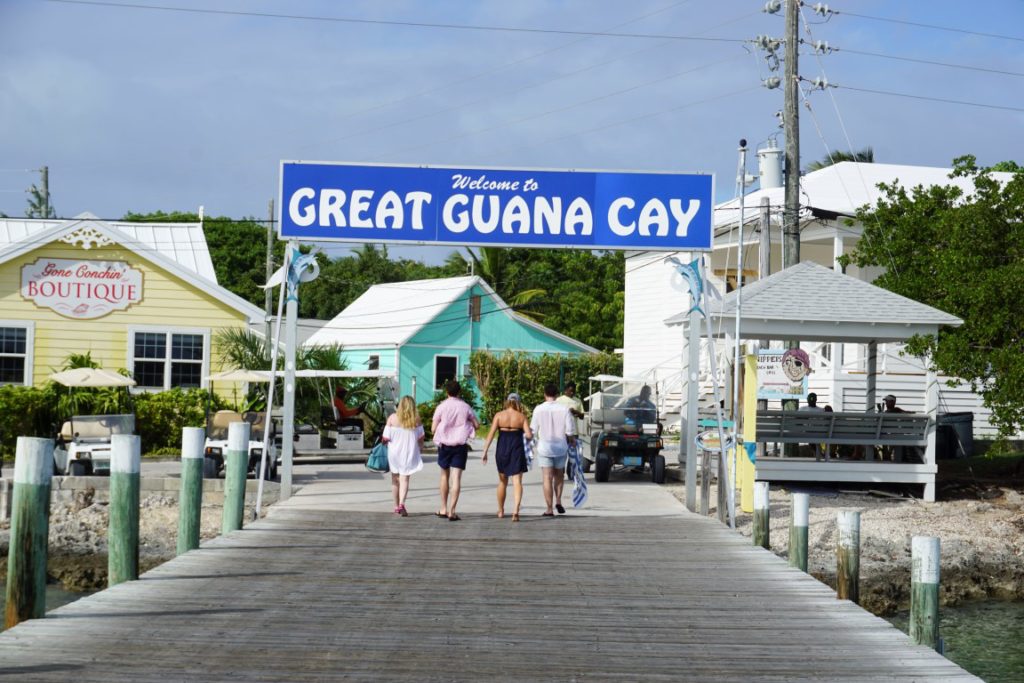 PLAY 
Some fabulous diving spots are located just off of Guana Cay. Book a half day or full day trip with Dive Guana and explore wrecks and reefs. Swim with their friendly barracuda and grouper, and keep an eye out for common sightings of bottlenose dolphins. They'll organize custom trips to Hope Town, Green Turtle Cay and Man 'O War Cay and they also rent golf carts, boats, bicycles, kayaks and snorkel gear.
GREEN TURTLE CAY
The settlement of New Plymouth was once the largest city in The Abacos, but today the population is around 500 residents. Upon arrival to downtown, you'll get a sense of the town's rich history, having been established as an official settlement in 1786. The sleepy village is a traditional Bahamian style village, with a bit of action going on in season. Outside of the main town are marinas and resorts which attract sailors, divers and sportsfishermen. The island is 3.5 miles in length and 1.5 miles wide with beautiful ocean beaches, and is located just three miles off of Great Abaco near Treasure Cay. Visit the turtles at Coco Bay and find yourself the only person on any given beach. Most people drive golf carts on the island, and you'll find there are enough bars, restaurants and shopping to keep you entertained.
STAY
Bluff House Beach Resort & Marina is located on the southwest side of White Sound. This 12-acre property stretches from White Sound to the Sea of Abaco. Each luxury suite features its own private balcony with an expansive sunset view of the Sea of Abaco, air conditioning, and newly installed high-speed fiber optic internet. The rooms are fresh, new and elegantly decorated in British West Indies style. They also offer 3 bedroom cottages on the Sound side that feature full kitchens, TV and living room area, and a master bedroom with en-suite bathroom.
DINE
The Club Restaurant at the Green Turtle Club serves breakfast, lunch and dinner daily. Visitors and homeowners from around the island and neighboring islands flock to this social hub for dinner and drinks. Lobster adorns the menu in season, and the coconut curry chicken, grouper fish and chips and mojito mahi mahi are favorites.
Bluff House Beach Resort & Marina has two options for dining which, between the two of them, serve breakfast, lunch and dinner daily. The Ballyhoo Bar and Grill is on the harbourside overlooking White Sound and the Marina. The open-air bar is adjacent to the pool and the interior dining room is cozy. The Tranquil Turtle Beach Bar is on the Sea of Abaco side perched on the edge of a picturesque white sand beach where guests can swim and lounge under an umbrella or in a hammock. Sit under the shade of a coconut palm, or on the deck overlooking the sea while you enjoy delicious burgers, salads and wraps.
PARTY 
When visiting the island, make sure you stop by the famous Miss Emily's Blue Bee Bar, home to the ever-popular Goombay Smash tropical drink. It's a secret recipe, but expect a rummy concoction with orange juice and pineapple juice. Hundreds of business cards and t-shirts line the walls, this has been an island fixture since the 1960's. Miss Emily passed away in 1997, but the establishment is run by her daughter Violet. It is THE place to hang out and no visit to Green Turtle Cay would be complete without stopping by. Like most places in the islands, it's closed on Sundays.
An iconic and regularly photographed bar that is well known to visitors to The Abacos is the Dollar Bar at the Green Turtle Club. Home to the famous Tipsy Turtle Rum Punch cocktail, this bar is popular among boaters due to its location right on the harbour and marina. The walls are covered floor to ceiling with dollars, a tradition which started when the club opened. Many celebrities have visited the Club, and you can look for their signed dollar bills throughout the bar. There is often live music, including the well-known Gully Roosters who perform their own music as well as reggae hits.
PLAY 
Brendal and his wife Mary have been operating Brendal's Dive Center since 1985. Visitors from the mainland also opt to use their tour services as well, such as those staying in Treasure Cay. Offering diving, snorkeling and island hoping excursions. They offer two dives per day from 10 to 100 feet, depending on your ability, which includes diving reefs, shipwrecks and inland blue holes, or learn to dive with their certification program.
MAN O' WAR CAY
One of the less visited locations is Man O War Cay, with a rich history as a boatbuilding community. There are less than 300 residents on the island, many of them with heritage dating back to the Loyalist period. The island is a "dry island," meaning no liquor is sold, so if you are looking for a traditional beach bar serving up stiff rum drinks, you will have to seek out a different island. If you are staying on the island, you're welcome to bring your own libations though. It's not illegal, it's just not sold. The town is well-kept and easily walkable, making for a fantastic place to visit for the day, and the residents have a friendly demeanor will make you feel right at home.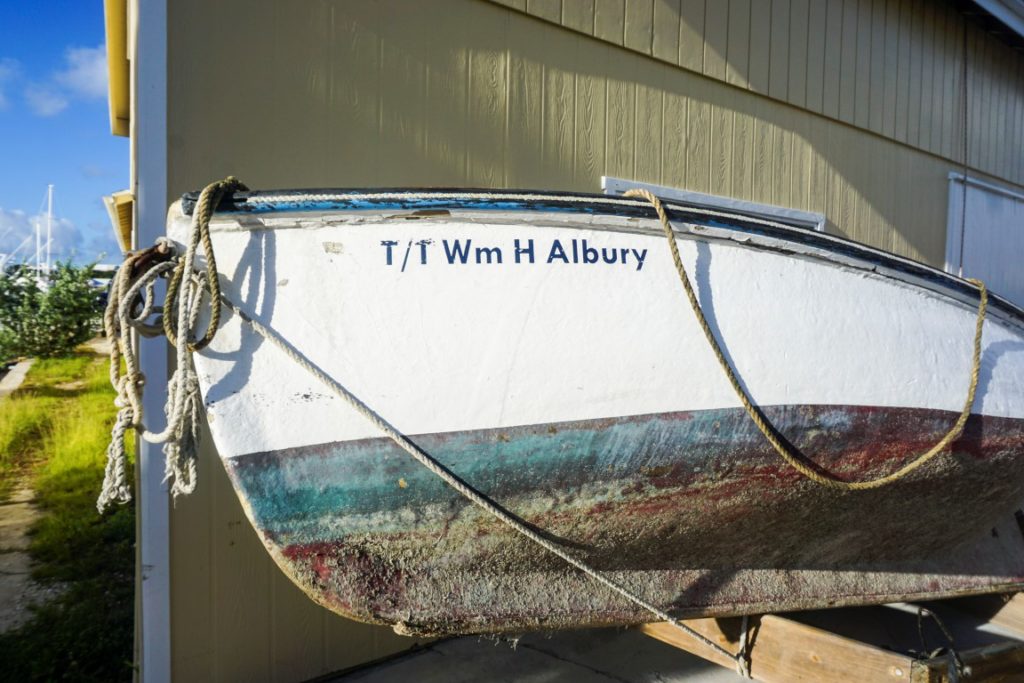 STAY
Schooner's Landing Ocean Club is located on the ocean side of the island featuring premium condo rentals. Each two-story unit is fully equipped and features expansive views of the ocean. There are 3 units that are suitable for 4 to 6 people, so they are perfect for group travel. There is a swimming pool on site and off the beach is an extensive reef system, perfect for snorkeling.
DINE
Dock & Dine is located on the harbourside near the ferry dock. Specializing in traditional Bahamian and American food, you can watch the boats come and go at this open-air establishment.
SHOP
Located on the north end of Sea Road, right on the harbour is Albury's Sail Shop. Family owned and operated for over three generations, you can find high-quality canvas creations utilizing a variety of colorful nautical and island-inspired prints. The canvas was traditionally used for sails. Near the back of the shop, you will oftentimes be able to witness the ladies sewing various sized bags and hats.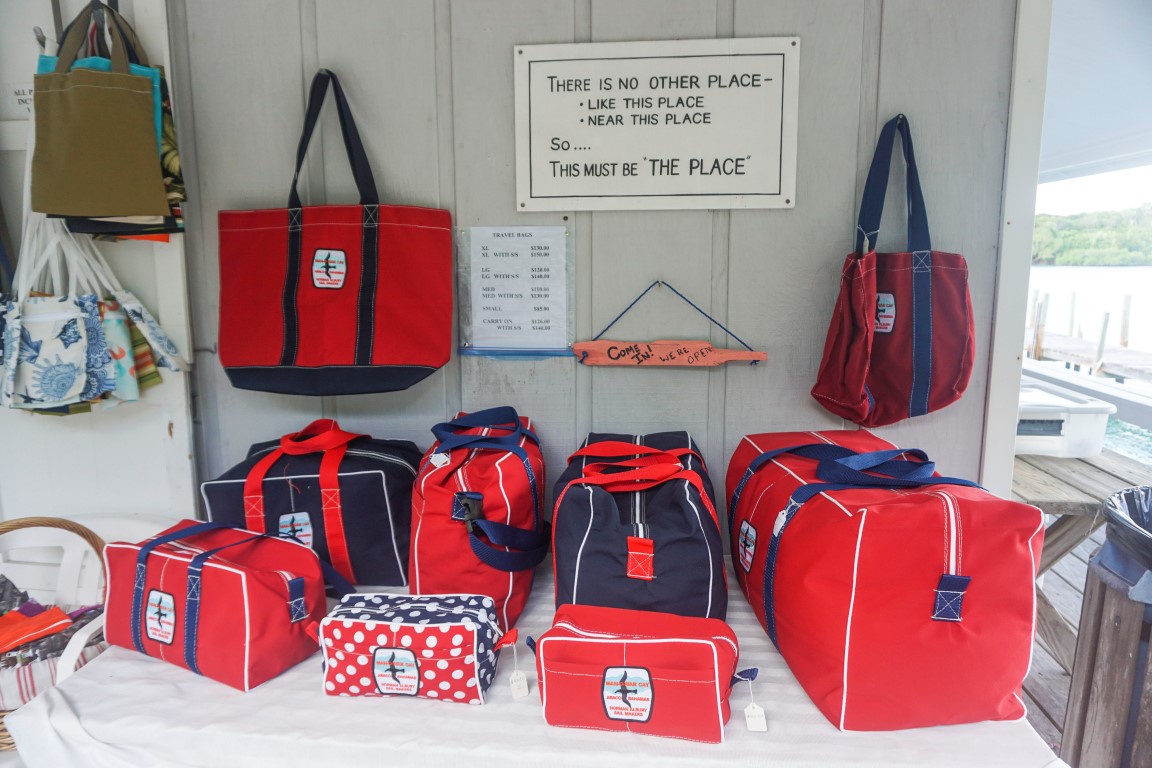 If you would like to read more in-depth about sites, activities and travel information, stay tuned for the Moon Bahamas travel guide, due to be released in Fall 2018