The dynamic landscape of Eleuthera and its surrounding islands are a combination of rocky headlands reminiscent of the rugged Irish coastline, separated by ambling stretches of gentle powder-sand beaches. Eleuthera could vaguely resemble a swordfish or narwhal whale that was stretched thin. Cape Eleuthera to the south is situated on the whale's tail feature, and the north is an anvil-shaped marshy landmass with the "sword" jutting out at Current settlement into Current Island. The ocean bears down on you from all sides on the narrow landmass; to the west, is the ever-calm "Caribbean" side, and to the east, the roaring Atlantic Ocean. A narrow strip in North Eleuthera called the Glass Window Bridge, showcases the sharp contrast between the shallow turquoise banks and the cerulean blue as the ocean plummets thousands of feet just off the coastline.
Eleuthera is a low-key hideaway for those truly looking to escape. Vacation rental homes on pristine beaches beckon time to slow to a snail's pace. On the mainland, surfers are drawn to the many surf breaks around Gregory Town, a funky up-and-coming settlement in an otherwise agricultural community that embraces its pineapple growing roots. Centrally located Governor's Harbour, the country's oldest settlement, is poised on a protected harbour and stretches along an elevated ridgeline spilling over to the Atlantic side. Further south, seemingly on the edge of the world is Cape Eleuthera, an angler's dream getaway.
NORTH ELEUTHERA
The region's busiest airport is located in North Eleuthera and many islanders will drive from the far south to catch the convenient daily direct flights to and from Miami, Ft. Lauderdale and Atlanta. North Eleuthera is the connection point for Harbour Island and Spanish Wells, but those looking for a quiet holiday opt to stay on the mainland and explore endless miles of beaches and remote natural beauty. Gregory Town is North Eleuthera's largest settlement, and smaller communities of Alice Town at Hatchet Bay and Rainbow Bay dot the way towards Central Eleuthera.
STAY
Ocean Tally is for those looking to truly get away from it all. Three newly built cottages with private balconies overlooking the Atlantic Ocean are breezy and inviting. The coastline below the cottages and restaurant is rugged and rocky, and on calm evenings guests gather around a firepit while the waves crash below. Scale the top of the circular restaurant building and enjoy panoramic views of the ocean, Bottom Harbour, Harbour Island and Eleuthera.
Luxurious, dreamy, soothing and unspoiled are all terms that describe the internationally acclaimed The Cove Eleuthera. The tropical landscape of towering coconut palms are interlaced with inviting hammocks, and a pristinely manicured lawn leads the way to the private stretch of pink sandy beach on the calm western side of Eleuthera. The accommodations are just steps from the restaurant, pool and private beach.
DINE
The Surf Shack is the new hotspot right in Gregory Town. The vibe is chill and the food is fantastic. Serving breakfast and lunch with staple menu items with surfery names such as the Goofy Footed Burger, Cowabunga Burger and Sea-Czar Salad. Their food is fresh and healthy with plenty of options for vegetarians. A great hangout to refuel post-surf session.
Perched on the hillside in the bedroom community of Rainbow Bay, 2 ½ miles south of Hatchet Bay, is the Rainbow Inn Seafood & Steak House. The restaurant is one of the more popular hangouts in the North Eleuthera area featuring live music and dancing three to four nights per week in season, and regularly shows televised sporting events. The screened in verandah offers views of the lush surrounding coconut palms and vegetation, and expansive ocean views. They are known for their high-quality steaks which are flown in from Chicago twice per week and are never frozen. Be sure to try one of their delicious salads featuring greens grown and picked daily from their farm on property.
SHOP
Pam's Island Made Shop offers a great selection of island treasures such as locally made hot sauces, jams, jellies and soaps. You're in the pineapple capital of The Bahamas so pineapple themed gifts abound, including dish towels and charm jewelry. Eleuthera print shirts are also a popular takeaway and you'll see both visitors and locals sporting long sleeve and short sleeve versions with the silhouette of the island.
PLAY
Eleuthera is a great spot for a variety of surf spots that include beach breaks, point breaks and reef breaks from Spanish Wells all the way down to Rock Sound. October through April is peak surf season. Summertime rarely sees swell unless there's a hurricane. Gregory Town is the surfing hub, with the most popular and aptly named break at Surfer's Beach. Grab post-surf drinks and refuel at The Surf Shack, rent surfboards and get surf lessons from Rebecca's Beach Shop or arrange your surf themed getaway at Surfer's Haven which caters towards traveling surfers.
CENTRAL ELEUTHERA
Governor's Harbour is the oldest remaining settlement in The Bahamas. It sits along a ridge that slopes towards the calm harbour on the west and the Atlantic on the east. Historical buildings abound. Loyalist cottages and ruins of the old jail date back 200 years. Governor's Harbour offers a wonderful mix of resorts with fine dining, beautiful stretches of untouched beaches and the Levy Nature Preserve for nature enthusiasts.
STAY
Pineapple Fields Resort is one of the most popular destinations, and for good reason. Located on the quiet Banks Rd, just a few minutes from town, the resort is across from a glorious stretch of beach that provides endless miles of exploration. Adjoining the property on the ocean side is the famous Tippy's Restaurant and Beach Bar, and a short walk down the road is the Leon Levy Nature Preserve.
French Leave's thoughtful architecture pays tribute to Bahamian historic style with modern flairs and includes limestone rock walls using traditional hand-laid construction, clean white stucco walls, louvered shutters and cedar shake roofs.  Each villa offers a golf cart for guest use, so you can easily get to the breathtaking pink sandy beach on the Atlantic side. On property there is a restaurant serving breakfast, lunch and dinner, a 7-slip marina, a pool overlooking the harbour.
DINE
Bacchus Fine Foods is tucked in a quiet courtyard on Banks Rd, just before Pineapple Fields. This organic gourmet market displays hand selected grocery items from around the world as well as local produce, sauces, oils, coffee, and fresh baked bread. The Café serves a beautiful selection of healthy, gourmet menu items such as roasted duck, sautéed chorizo on baguette, and plenty of vegetarian options such as curried chickpeas and grilled eggplant stuffed with buffalo mozzarella.
Buccaneer Club is a welcoming diner located right in Governor's Harbour on the one-way road heading towards the Atlantic side. The outdoor deck is built around a massive old world Lebbek tree (similar to the Poinciana), giving the right touch of nature within the bustling town. Serving tasty Bahamian/Caribbean fare with fresh ingredients.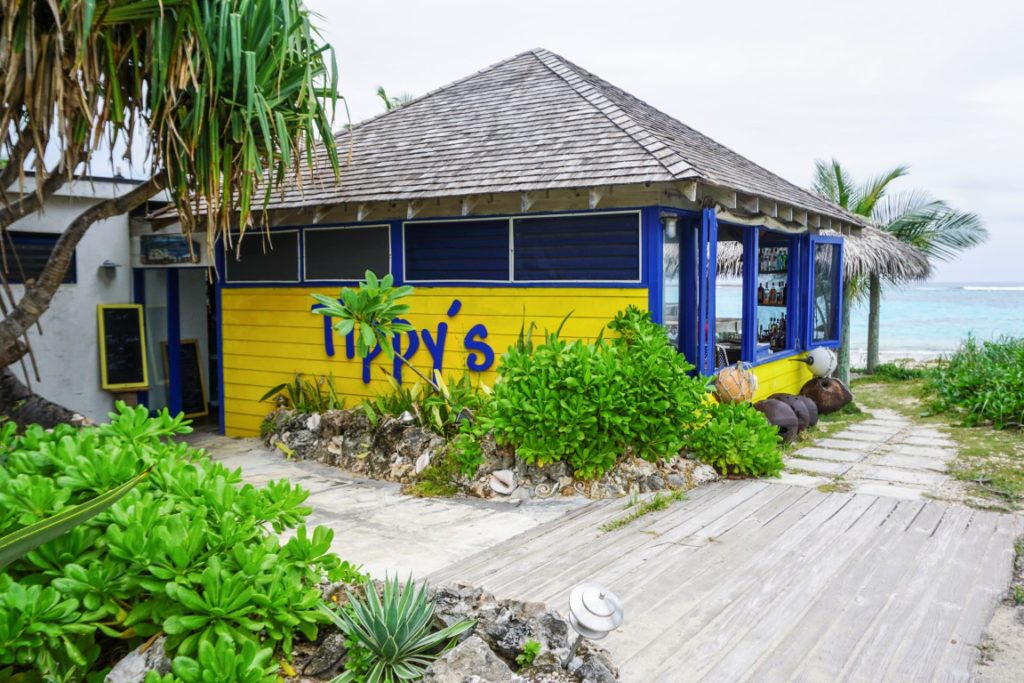 No trip to Eleuthera would be complete without a stop off at Tippy's Restaurant & Beach Bar. Located across the road from Pineapple Fields, this well-known establishment has been drawing the beach bar crowd for many years with its fresh, homemade meals, ocean views and live entertainment. On Saturday evenings you'll find a crowd of winter residents jamming to a local band. The menu changes daily, but can include salads with local, organic greens, beet salad, homemade pizza pies, homemade conch ravioli, spring rolls and lasagna.
SHOP
Eleuthera Island Farm is located on 10 lush acres just south of Governor's Harbour and provides locally grown organic, non-GMO produce. About 7 acres of land is cultivated at any given time and includes lettuces, tomatoes, root vegetables, squash and herbs. Don't miss bread days, where they bake homemade French baguette and sourdough loaves on Tuesdays and Fridays.
EXPLORE
Operated by the Bahamas National Trust, the Leon Levy Nature Preserve protects 25 acres of forest, mangroves and rocky coppice, with the goal of conserving native species and exploring bush medicine. Miles of well-kept trails meander through native plants and trees, providing a research and education facility focusing on the importance of Bahamian biodiversity. Head right on the trail system and immediately enter the elevated Mangrove Boardwalk which takes you directly into a mix of Buttonwood and Mangrove forest and swampland. The roots from the Red Mangrove turn organic matter into peat, giving the water a shocking red/rust color.
SOUTH ELEUTHERA
Although much of Eleuthera is quiet, South Eleuthera is probably the quietest region. Rock Sound is the center of commerce and is home to the regional airport. There is a well-stocked grocery store, a hardware store, gas stations and several restaurants. Cape Eleuthera was booming during its heyday in the 1960's, with direct flights from London on British Airways and despite challenges in the past years, today the resort has gained momentum as a top destination for fishermen.
STAY
Cape Eleuthera Resort and Marina feels like it's on the edge of the earth. 30 minutes from Rock Sound, there isn't much of anything in between, making it feel like a hidden oasis. Enter the property and you're greeted with brand-new one bedroom brightly colored cottages. The cottages have a kitchenette and a living space and are decorated with island accents and tasteful artwork. Along the marina are the two-bedroom villas which are simply awe-inspiring. Enter into a spacious open-layout kitchen and bar area that leads to a comfortable living room with large flat screen TV's. The downstairs balcony looks onto the marina activity. Upstairs you'll find two bedrooms with ensuites, one with two twin beds and another with elevated four-poster king sized beds with plush pillow top mattresses. The master suite has its own balcony to sit and watch the sunset. These are fabulous options for families who need ample space. The marina attracts fishermen and is located in one of the top fishing grounds in the country.
DINE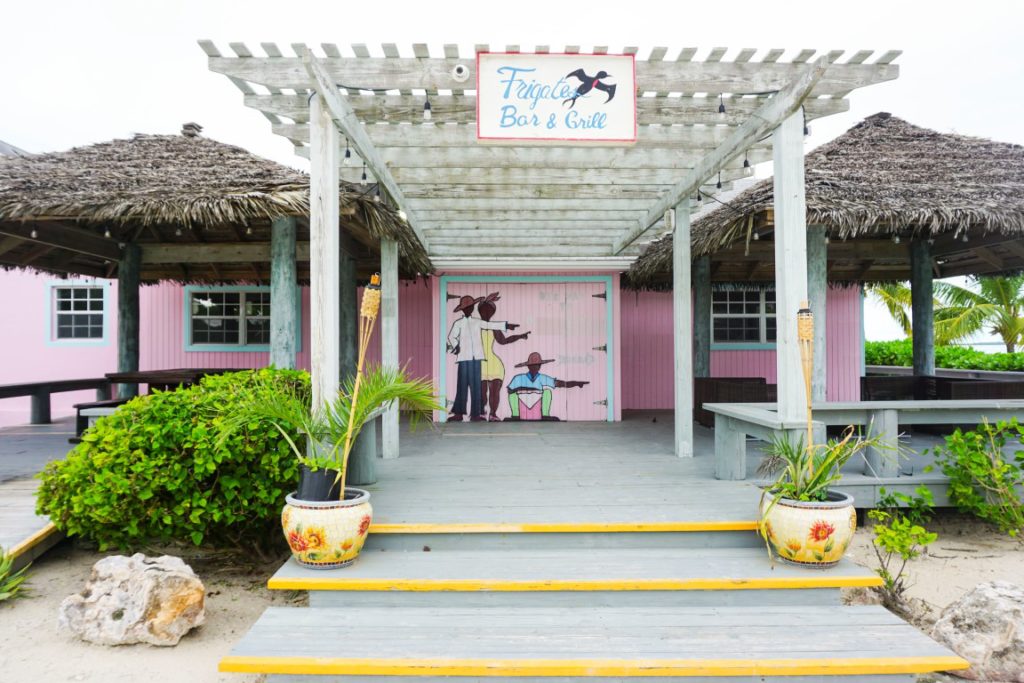 Frigate's Bar and Grill is located in Rock Sound, just one block south of the Market Place shopping center. Its fantastic location on the calm western side offers beautiful sunset views from either their porch, their small man made sandy beach or their gazebo. Their food is a mix of fresh caught local seafood with locally grown herbs and greens.
Located at the Cape Eleuthera Resort, Harbour Pointe Restaurant is surrounded by the marina and its entrance to one side, and sweeping panoramic views of the ocean on the other. Dine indoors in the air conditioning saddled up at the Barracuda's Bar, or outdoors on the porch with staggering sunset views. Near the entrance of the resort's property is the world-renowned Island School, which attracts young, enthusiastic minds from all over the world, so don't be surprised to saddle up to the bar and engage in an enlightening conversation about the latest innovative project going on at the School.
EXPLORE
Rock Sound Ocean Hole Park is located directly within the town, on the southeastern corner. It is nearly a perfectly round shaped blue hole, nestled within native bush, seagrapes and coconut palms. Although it is a quarter of a mile inland, the water is brackish because of its connection to the ocean by way of underground passages through the porous limestone and is believed to have been formed over 300,000 years ago when the island's bedrock eroded. The hole is approximately 600ft deep and was once explored by Windermere Island's winter resident Jacques Cousteau. It is a popular swimming spot and locals believe its waters have healing powers. A destination for those looking for an adventure, Lighthouse Point has two beautiful beaches, Lighthouse Beach and Lighthouse Bay. It will take you about 2 hours from Governor's Harbour and is a full day excursion, so make sure to pack food, water, sunscreen and necessary beach-going accessories.
If you would like to read more in-depth about sites, activities and travel information, stay tuned for the Moon Bahamas travel guide, due to be released in Fall 2018