Many of you know that I spent 2 1/2 years living in Harbour Island. It was there that I started the Out Island Life website, and I still have an article called "Harbour Island Travel Guide" sitting in draft form that I never got around to completing. Now, I suppose, is my chance to share it. Whenever I return to Harbour Island, its like I have never left, and it will always hold a special place in my heart. But it was also a very difficult chapter to write for the Moon Bahamas travel guidebook. The premise of the guidebook is that it's not an exhaustive list of activities, accommodations, restaurants and sights, but just a select few that the author can recommend. The problem is that I CAN recommend nearly every establishment on Harbour Island, and with so many options, my Harbour Island section of the Eleuthera chapter became very long.
Harbour Island regularly ranks high as a top island destination. Known as "Briland" by the locals, it attracts an elite socialite crowd during the winter months for its famous Pink Sand Beach, top restaurants and hotels, and a well-formulated social scene that keeps visitors returning year after year.  Dunmore Town is one of the oldest settlements in The Bahamas, and the brightly painted wood-shuttered colonial homes give this island a rich sense of charm. Visitors relish in the allure of navigating narrow streets in a golf cart, and the island's mascot, the ever-present rooster, will most likely wake you before the sun comes up each morning. It's almost indescribable until you visit, and its unlike any other destination I personally have ever been.
And so without further adieu, here is my somewhat trimmed-down list of places to stay and eat, and things to do on Harbour Island. The guidebook will have an extensive list of business contact information, golf cart rental listings, travel information, and local services, so stay tuned!
EXPLORE
Located on what's known as Girl's Bank on the western side of the island is a much-photographed tree skeleton. Lone Tree washed up in Hurricane Andrew in 1992 and landed upright with its intricate root ball supporting it at its base. The original tree washed away in another hurricane, but it had gained so much popularity and become such a landmark that it was eventually replaced by another, much larger tree that was strategically "planted" in the sand flats. It resembles a piece of art in the vast sand flats. It has been featured in magazines and is a popular spot for photograph shoots.
All visitors to Harbour Island arrive by boat, and the main stop is at Government Dock, the center of the bustling action where water taxis come and go and domestic and international freight boats pull up and unload several times per week. At the end of the dock is a bright yellow sign welcoming you to Harbour Island. The street that runs perpendicular to the dock is Bay Street, the most colorful and picturesque street on the island. Turn right and you'll pass by The Landing and Rock House and creep into the residential area of the island. Turn left and you'll be awed by the collection of wooden New England style colonial homes with brightly colored shutters in all shades of teals, sunbeam yellows and pastel pinks. Many of these homes date back to the 1800's. Look for Beside the Point, Rose Bud, Still Point and The Little Boarding House for great photo ops. You'll also see the Loyalist Cottage, one of the oldest residences on the island, dating back to 1797. Stop into The Sugar Mill for boutique resortwear, or meander through the straw market on the edge of the waterfront park where all of the town's festivals and events are held. Further down is the fishing dock, where local skiffs arrive with the day's catch, and the surrounding restaurants cook up the freshest of seafood dishes including conch salad at Queen Conch. Enjoy a cocktail at the open-air Beyond the Reef bar and watch the sunset over the harbour. Bay Street is also home to Junkanoo on Boxing Day and New Year's Day.
Eleuthera is home to a plethora of gorgeous pink sandy beaches, and you would be hard pressed to put one upon a pedestal above another because they each offer their own striking beauty. But Pink Sands Beach is slightly different and perhaps has a certain leg up if only because it's located among the opulence of Harbour Island. Stretching for 3 glorious miles with a depth of 100-250ft depending on the tide, this is one you'll definitely want to take a stroll on. Located along the beach are resorts, restaurants and vacation rental homes. At low tide the sand is firm and level, allowing for stable walking conditions. Some of the resorts even have fat-tired beach bicycles for proper beach cruising. To the north end of the beach are the estate homes of The Narrows, where the elite enjoy a quiet stretch of beach, lightly trafficked by beach walkers. Central are the resorts of Coral Sands, Pink Sands, The Dunmore, Ocean View Club, Runaway Hill and popular lunch restaurant, Sip Sip. Valentine's also has an area of beach chairs and umbrellas set up for their harbourside guests. To the south are vacation rental homes that are tucked within bright green/yellow scaevola and broad-leafed seagrapes, which thrive in the otherwise harsh coastal conditions. Beaches in The Bahamas are public, but lounge chairs are reserved for guests of the corresponding hotels. You can rent beach chairs at the beach access between Coral Sands and Pink Sands from TeeJay's Beach Chair Rentals. She has chairs and umbrellas, and you can purchase cold drinks, cocktails and snacks from under her shady hut. She also bartends at Queen Conch, so if she's not at her post, you can most likely find her there. For the beach access at Coral Sands, head down Chapel St from Dunmore St, and you can park on the side of the road. There are beach accesses all along the island, so you shouldn't have any problem getting there if you just head east, or ask a local to point you in the right direction.
STAY
The Coral Sands Hotel is a laid-back, yet luxurious destination located on Pink Sands Beach. Major renovations in 2014 and 2015 brought a brand new lobby and dining room, guestrooms, a gym, a gift shop and new oceanfront guest cottages. Dine in one of two on-property restaurants, lounge by the pool, or order your favorite cocktail from under an umbrella on the beach right in front of their property.
On Bay Street just off of Government Dock, in a historic building dating back to the 1800's is The Landing. 13 guest rooms were designed by international lifestyle specialist and local homeowner India Hicks to create colonial influenced plantation-style accommodations for the distinguished array of guests that frequent the establishment. On property is a top restaurant serving breakfast and dinner.
New management has transformed the look and feel of Romora Bay in recent years. This is now a go-to accommodation option for wedding parties and groups, and they are more than happy to help you plan your perfect event. Relax by the swimming pool in lemon yellow loungers, enjoy dinner at Sunset's Bar & Grill or at Aqcuapazza, both on property, or park your boat in the marina and head out for world-class fishing. The rooms have been recently updated and offer comfortable king-sized beds and harbour views.
Valentine's Resort and Marina is located on the harbour side, within walking distance to bars, restaurants, coffee shops and shopping. The marina is the busiest on the island and caters to boaters who are looking for a land base. The studio, one and two bedroom luxury condos are part of a vacation rental pool. Fall in love and purchase one for yourself. A pool, dive shop, coffee shop, two restaurants and a gift shop are on property.
Chic Cottage Rentals
Vacation rentals on Harbour Island are all the rage. Historic cottages in Dunmore Town allow guests to enjoy taking a stroll to boutique shopping, nightlife and coffee shops. Larger, newer homes are available along the harbourside and Pink Sands Beach. There are a plethora of options for all family sizes.
Here are just a few….
Jewel Box is located in the heart of Dunmore Town on King Street and was featured in Coastal Living Magazine. Owner Trish Becker took a derelict 1700's residential home and restored it to its original structure and added coastal-inspired accents and artwork by Bahamian artists. For a fantastic centrally located home with a pool, a main house, guest cottage and ample space for outdoor entertaining, The Hatch is an ever-popular option. An upside down layout, with kitchen and living room on the second floor, Stone's Throw is a 5-bedroom, 5-bathroom home located in a quiet neighborhood, just steps from Pink Sands Beach.
DINE
If you're looking for some of the best conch salad in the islands, your trip to The Bahamas wouldn't be complete without a stop at Queen Conch. Locals and tourists come together at this casual, open-air establishment, situated on the harbor near the fishing docks. The staff begins taking orders at 11:30am (or as soon as they show up), and quit serving when they run out of fresh conch, usually by 1pm, so don't delay getting your name on the list. Be prepared to settle in, since the salads are made to order. Also serving fantastic entrees such as fish wraps with hand cut French fries and spicy shrimp Caesar salad.
The ever-elegant restaurant at The Dunmore attracts Harbour Island's elite crowd with its glamourous 1960's resort-style dining room. Comfortable couches invite guests for a pre-dinner cocktail from their solid mahogany bar and the Amanda Lindroth-designed orange and white pin-striped booth seats in the dining room are accented with old black and white photographs of Harbour Island's heyday.  Serving lunch and dinner daily (breakfast for hotel guests).
Rock House offers some of the best harbour view dining on the island. The restaurant stretches from the terrace balcony elevated over the harbour, to the pool patio, with a breezy dining room in between. Crisp white tablecloths and a posh old-world ambiance will allow you to settle in as you enjoy elegant Caribbean fare such as curried New Zealand lamb chops, herb crusted grouper, or jumbo crab cakes with béarnaise sauce.
Runaway Hill is tucked away on a quiet hillside and provides guests with a more anonymous dining experience than some of the other social-centric establishments. The bar and dining room exude a historic charm and the wide balcony overlooks the pool and Pink Sands Beach. The chef focuses on locally grown produce and fresh caught seafood.
This wine shop saddled up with sushi to create the new hippest spot, and the first place to introduce Asian-influenced cuisine on the island. Da Vine Wine Merchants and Sushi Bar is an intimate dining setting surrounded by racks of wine bottles that will instill an old-world European flair to your culinary trip to Japan. Chef Edwin, formally a Nobu chef, prepares classic sashimi, sushi and rolls along with soba and ramen noodles, or you can try lamb chop, black cod miso and Waygu beef. Wash it down with one of their fine selections of sake, a craft beer or a bottle of wine from their retail wine selection.
Acquapazza Italian Ristorante is enjoying their new location at Romora Bay. Historically this hard-to-find restaurant was always somehow packed with local residents on any given night in-season. Now perched above Sunsets Bar and Restaurant and closer to town, diners can opt for the air-conditioned dining room, outdoor piazza under ambient string lighting with beautiful harbour views, or just saddling up to the bar to see who you might meet. Start your dinner off with their lightly battered Calamari Fritti, served with a slightly spicy marinara sauce, and then opt for one of their many fantastic menu selections. All options are superb, but the Melanzane Parmigiana (crisp cheesy baked eggplant parmesan), Fettuccine alla Norcina (cream of porcini and white truffle oil), Chicken Toscano, and Snapper Livornese are some of the tastiest menu items. Italian owner Manfredi is usually on-hand to make sure guest experience is top notch, Chef Vernon is enjoying cooking his classic dishes in his new spacious and luxurious kitchen.
Coral Sands offers two dining options for hotel guests and visitors. For lunch, the Beach Bar's shady deck up top the sandbank from Pink Sands Beach offers Instagram-worthy views on any given day. Chef Ken serves up simple and delicious pizzas, and sandwiches such as Shrimp Po Boy and Lobster Salad. Specialty cocktails will surely convince you to linger into the afternoon. Dinner at Latitude 25 kicks off in the newly renovated dining room above the pool deck where Chef Ludo prepares dishes from his native France, with a Caribbean twist such as Coconut Crusted Mahi, Seared Scallops in Champagne Cream Sauce and Lobster Mac & Cheese.
Valentines Resort & Marina offers two open-air dining options overlooking the marina. Rooster Tail's Bar & Grill is a casual hangout with cushioned bar table seating, or shady umbrella tables over the water. The Boathouse Restaurant is slightly more formal, but overall maintains a casual and relaxed boater vibe. Serving tasty burgers, fish tacos, sandwiches and fresh seafood.
Sip Sip is the local term for gossip. When you get the "sip sip" on something you're getting insider information. Sip Sip was established as the social house of the community, but word has gotten out and this lunch-only restaurant is packed daily with visiting patrons. The menu changes daily based on what is in season. Their crafted cocktails are intoxicatingly delightful. Make sure you try the Passion Fruit Sangria and if you have room for another, the Sip Sip Rum Punch.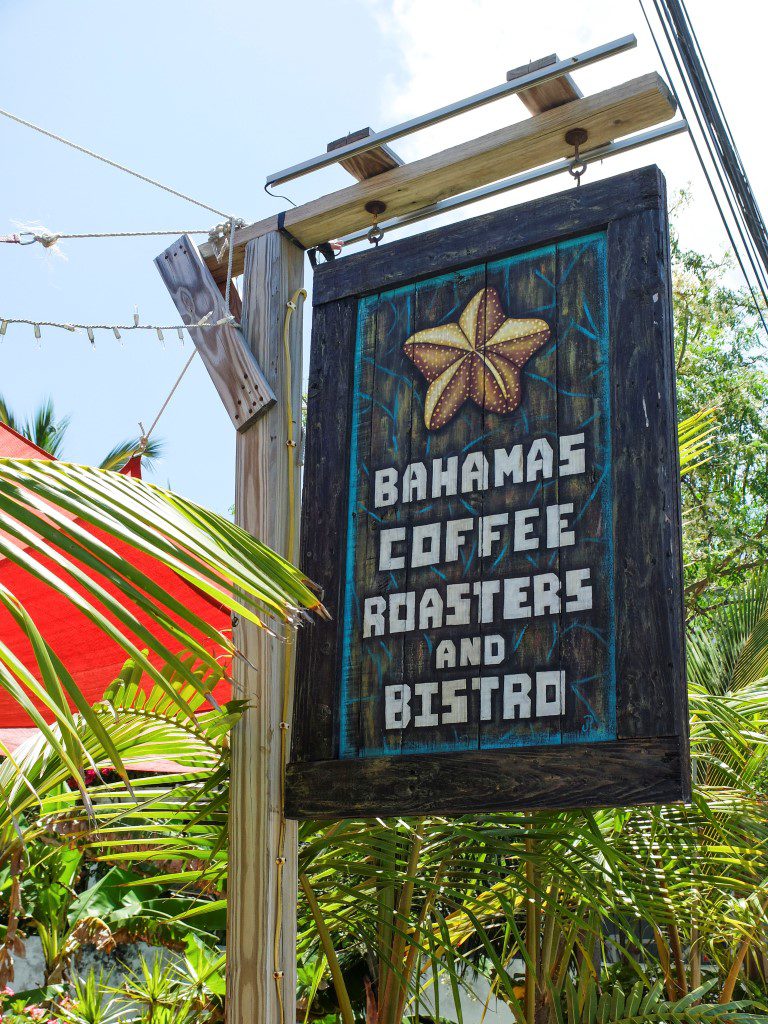 Bahamas Coffee Roasters is the center of action in the mornings, serving their own blends of hand-roasted coffee. Located right in town, people often walk from their vacation rental cottages to this family run shop. Sit inside and watch the comings and goings, or on the shaded porch overlooking Dunmore St. Serving delicious breakfast burritos, sandwiches and quesadillas, as well as delectable French toast. For lunch be sure to try their Organic Chicken Sandwich with brie cheese, fig spread and arugula on ciabatta bread.
Dunmore Deli serves breakfast and lunch and offers a selection of delicatessen meats, cheeses, pates and locally grown micro greens and vegetables in their self-serve refrigerator. Their sandwiches are served on fresh baguette and ciabatta and are tasty combinations of jerk beef steak with spicy aioli, roast beef with caramelized onions and goat cheese and turkey, avocado and bacon.
The Laughing Lizard is located just off Government Dock on Bay Street. The artsy interior and friendly faces will hook you into becoming a regular. Serving a mix of Bahamian dishes and healthy paninis and wraps.
SHOP
Princess Street Gallery is a beautiful art gallery showcasing the best of Bahamian artists. Much of the artwork is done by local and visiting artists, making most of the pieces on display specific to Harbour Island. A variety of coffee table books, black and white historic photographs and Bahama Handprint bags, towels and napkins are also available.
Dilly Dally is the best spot to pick up affordable Harbour Island souvenirs and locally made products. Featuring a selection of books on the Bahamas and the local area, jams, hot sauces, local sea salt, and candles, as well as t-shirts, jewelry, and Harbour Island Tervis Tumblers.
Located on Bay Street just to the north of Government Dock is the Straw Crafts Market which features a variety of stalls with locally made straw crafts and t-shirts. For high-quality artisan straw crafts, head south of town on Queen's Highway and stop in at A&A's Hidden Treasures. Alice will be hard at work creating her products, so you can stop in and watch her and ask questions about her craft. She makes beautiful handbags, clutches, bowls and hats. She will even personalize something for you if you'd like.
Co-owned by India Hicks and Linda Griffin, the Sugar Mill was actually a functioning sugar mill circa 1925. Opened in November 2005 Linda and India's original vision of offering a boutique shop filled with global treasures for all ages and even 4-legged friends, is still very much alive today. You'll notice an affinity to skull and crossbone designs, mixed with elegant resortwear, clutches and jewelry.
Blue Rooster is located in a historical residence dating back to the mid-1800's. The hardwood floors creak with character upon entrance, and you'll be welcomed with a smile, likely by the shop's owner Gabrielle. Specializing in high-end resort and beachwear for men and women. Nestled behind a white picket fence is a quaint historical cottage with pale pink shutters is Dake's Shoppe. Specializing in well-curated men's and women's resort wear, home decor, linens and textiles, Dake brings a worldly blend of style and sophistication to his Harbour Island store. Original rafters, exposed shingle ceilings and Abaco pine clapboard siding add to the timeless Harbour Island ambiance of Dake's Shoppe.
Calico Trading Co specializes in trendy and eclectic beachwear and swimwear. They also sell the Bahamas specific Bryland products, which includes their high quality tailored polo shirt with the signature Lord Dunmore Rooster. The Island Company opened in 2016 with two locations, one on Bay Street adjacent to Government Dock, and one at Pink Sands Resort. Their ever-popular tagline "Quit your job, buy a ticket, get a tan, fall in love, never return" showcased on shirts, hats and Tervis Tumblers seems to fit the way most visitors feel about Briland.
NIGHTLIFE
The Out Islands are traditionally quiet at night unless you're hitting a Fish Fry or special event. Many people head to the bars for happy hour and are at home by 9pm. No so on Harbour Island, which has the most hopping nightlife scene second to Nassau. For those looking to dance late into the night, head to Daddy D's. During the holidays and spring break, it will be packed with an energy-filled young crowd. Devon "Daddy D" Sawyer spends his days fishing and then heads to the club around 10pm to spin a mix of the latest hit dance songs, often until 4am. The place doesn't pick up until midnight, so you might be well advised to stay home and take a nap first. Another popular spot for dancing is Gusty's which opens at 9pm nightly. The floor is covered in sand inside, and there is a breezy deck overlooking the harbour for fresh air. Vic Hum Club opened in 1955 by brothers Victor and Humphry Percentie and has been a fixture late-night hangout ever since. The walls are steeped in island history and it's home to the largest coconut, so be sure to have a look at the 33-inch anomaly when you're there. There's also a basketball court and pool tables. Just up the road from Vic Hum Club is an unassuming JJ's Cocktail Lounge. This tiny bar is a popular spot for a quick drink when you are bar hopping throughout the evening. Order a rum and coke and you'll be given a flask-sized bottle with a can of coke for $5. Along the harbour front is Beyond the Reef, which is usually a hot spot on Friday and Saturday nights, often with live music or DJ's and it's regularly utilized for private events. Across the street from Beyond the Reef is local's hangout Sammy's Bar, where you'll often find patrons watching sporting events and slapping dominoes.
If you would like to read more in-depth about sites, activities and travel information, stay tuned for the Moon Bahamas travel guide, due to be released in Fall 2018