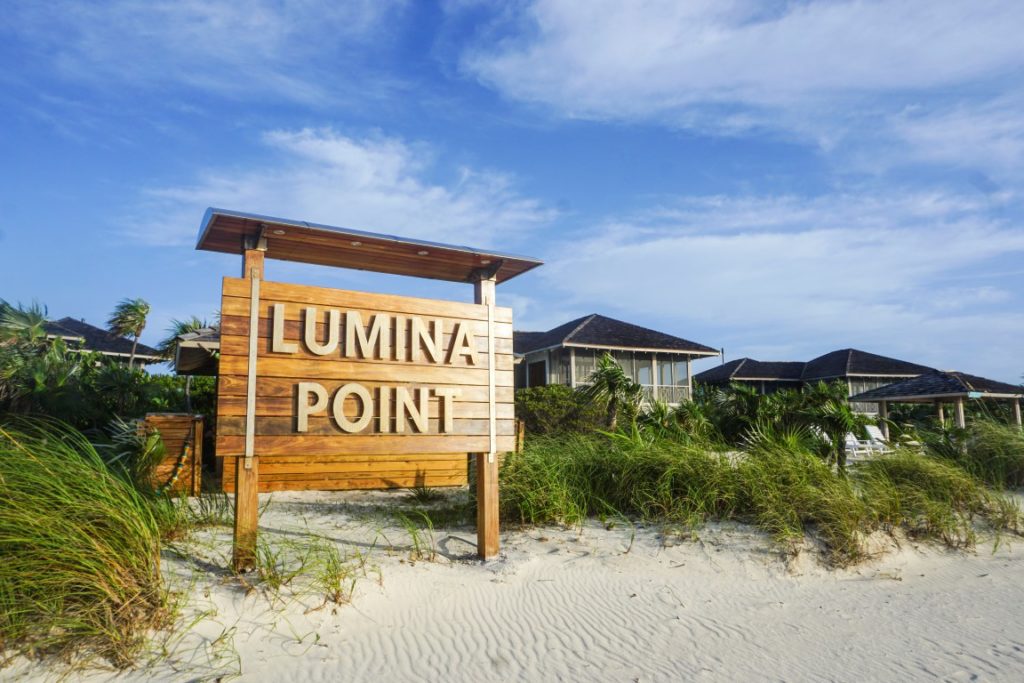 I couldn't have picked worse weather to visit The Exumas if I tried. A cold front came in on Thursday afternoon, the evening before my departure to George Town in Great Exuma. The winds would bring a steady 30kts from the east, making everything on the habitable side of Great Exuma and Little Exuma, windswept, sandblown, overcast and annoyingly miserable. I'm working with deadlines now that the Moon Bahamas travel guidebook manuscript is due on May 1st, and I have six more island regions in the Southern Bahamas to visit between now and then, so my travel days are limited. If it were up to me, I would visit in April or May, my favorite Exuma months, when the cold fronts are a distant memory and light breezes start to sweep up from the warmer southern latitudes, but it's not yet a summertime inferno of a hell's kitchen at that point.
Getting back to the point – I spent Friday and Saturday exploring the mainland of Great Exuma and after I felt pretty wrapped up in that department, I decided it was time to head to my evening's destination. I called Lumina Point, located on Stocking Island, for a pickup. Stocking Island is about 1 ½ miles across a (generally) fairly protected harbour from George Town. Due to the high winds, they were sending Elvis's Water Taxi over to get me; a floating bathtub with a wrap-around windshield protecting us slightly from the waves. The water glowed a neon pale blue color as we plowed into the wind and waves. I huddled front and center next to a French Canadian woman who was headed over to her sailboat anchored among hundreds of other boats that were riding out the cold front along the lee of the island. Waves splashed in from the side and water sloshed around on the deck as we navigated our way across. As we approached Chat n' Chill, the winds subsided slightly. Beachgoers were scantily clad in swimsuits and soaking up the few rays of sunshine that peeked through the high-level cloud cover. I wrapped my scarf tighter around my neck. Too many years living in The Bahamas has made winter feel like "winter" here. Don't ask me to put on my swimsuit and lay on the beach until the warm tradewinds blow.
The taxi driver dropped off a few tourists at Chat n' Chill, and I do have to say, it looked inviting. But I stayed aboard as he shuttled me around the corner via a protected lagoon. Three guest-service attendants greeted me at the dock at Lumina Point. One grasping onto a platter with a beautiful tropical cocktail precariously balanced on it, teetering in the wind, another to grab my bag, and a third to give me the grand tour of the island.
I was whisked away by Shavon, a delightful young Bahamian woman. The first thing she told me was that Lumina Point was an eco-friendly resort. Now you're speaking my language. We walked among the coral stone paths that leisurely meandered through the property as she pointed out the gym, spa, saltwater swimming pool, and then the large solar array that powers the complex. They also had their own garden filled with fresh herbs, peppers and lettuces. On property there are two restaurants; The Lookout, perched on the highest point with panoramic views of Elizabeth Harbour, and The Beacon, looking towards the east and the lagoon. There's also a beach bar if you just want a tropical cocktail while lounging under one of their shady cabanas.
I was introduced to cottage #3, my abode for the evening. It was the perfect size, and I immediately felt right at home. If it were just me, I could live comfortably in this space indefinitely. There was a sturdy writing desk with a bench seat with views overlooking the harbour, an inspirational place for many hours of writing, given the opportunity for an extended stay. A breezy screened in porch allows for doors and windows to be open without the threat of mosquitoes or sandflies. The interior was contrasting natural wood flooring with dark trim, whitewashed paneled walls, and caged marine lantern lighting, giving the feel as though I was on a yacht. Each room is equipped with a composting toilet and my favorite feature, an in-room outdoor shower! A ladder brings you up to a loft, and the king sized bed offered crisp white linens and dangerously soft pillows, perfect for an extended lie-in, if you should so choose.
That evening the sun peeked out and I was able to run around and get some decent photographs on the beach and around the property. I luxuriously ordered room service and enjoyed a quiet evening to myself. At home I usually have the television on, dogs are clip-clopping around my bedside, occasionally barking at who knows what. So I seriously enjoyed some quality alone time with myself.
I fell asleep with the lights of sailboats at anchor bobbing outside my open door. No light pollution, no sounds other than the waves crashing on the powder-fine sandy shoreline.
I awoke with the sunrise, and to a crisp, sunny day. The weather decided to warm itself to an out-of-the-ordinary springtime temperature. I made a cup of coffee and turned on my provided VHF handheld radio to hear the goings-on in the sailboat world just outside my door. Eventually, I was alerted of the morning's Cruiser's Net to be announced at 8am on Channel 72. The Cruiser's Net consists of weather, harbour safety and procedures, new arrivals and upcoming departures, regatta announcements, thoughts of the day, events and happy hour, buy, sell or trade opportunities, and other community announcements. They also announced the schedule of beach church on Sundays for the worshipers, water aerobics, beach yoga and music jam sessions. What it didn't consist of was the latest outrageous tweets, or who's aiming nuclear weapons at who. This is my type of news. I felt removed from the chaos of the world for a brief moment.
I made my way up to the restaurant, to be told I was the only guest to be joining them for breakfast. I enjoyed star service and a wonderful cappuccino as the kitchen whipped up a delightful mushroom omelette.
After breakfast, I decided to venture away from the property. To the north is privately owned land, making it fairly inaccessible to get to Chat & Chill by land, but down the beach towards the south of Lumina Point's property was a hiking trail, Treasure Trail, that leads to the east beaches. I meandered my way through native vegetation and enjoyed stunning harbour views, but ended at a mangrovey marsh due to recent rains. As I made my way back down the beach, I met a lovely cruising couple who had just wrapped up with a kiteboarding session, so I chatted shop-talk about the kiteboarding conditions before I was on my way again.
Before I knew it, my time was drawing to a close. I had a hint of sadness in my heart. I truly love the Exumas and it always feels like returning home whenever I visit. I packed my bags, took one last glance out of the French doors onto the glimmering harbour before I made my way back up to meet Howard, the Head of Concierge. Howard was kind enough to drop me back over to George Town, with a few stops along the way.
We putted out of the protected lagoon, between gentle sandbars and sailboats safely tucked on the inside. He dropped me on a small crescent beach with a short trail that popped up and over to the east beach. The views were magnificent. The lagoon stretched into the protected harbour to the west and rolling elevated ridgelines gave the impression of a mountainous landscape reminiscent of volcanic islands further south in the Caribbean, very much unlike the remainder of the low lying landscape of many other Bahamian islands.
We made one last stop at Chat & Chill so I could grab a few more photos. It was just getting on noon, and they were ramping up for their ever-famous Sunday pig roast. Boaters were arriving by dinghy and setting up claimed territory along the sandbar in the sun, some choosing to retreat to picnic tables under the shade of casuarinas. Tropical drinks were flowing and island music was elating the scene. I longed to stay, but my flight back home was calling.
My time went entirely too fast and I am already dreaming of my return. Perhaps one day I'll have the opportunity to return, with better weather with more time to dedicate. But all in all, I feel as though I have stumbled upon a hidden gem, one that ticked all of the boxes for an Out Island getaway. The customer service was second to none, the accommodations were sinfully luxurious, and the natural landscape is the epitome of what we all love about the Exumas.
For more information on Lumina Point be sure to visit their website www.luminapoint.com